Previewing the council by-elections of 8 July 2021
"All the right votes, but not necessarily in the right order"
The political editor of the New Statesman Stephen Bush, a kind patron of the Local Elections Archive Project, remarked last week that he was surprised how few errors I make in researching Andrew's Previews. Inevitably, he's put the mockers on me, and before we start this week there are some entries to note for Correction Corner.
First, I regret that there was an error in the Batley and Spen preview last week regarding the seat which included Batley in the period 1885-1918. Although Batley was technically part of the Morley division of the West Riding at this point in time as I stated, it was also within the area covered by the parliamentary borough of Dewsbury, and most of the people in Batley who were eligible to vote would have voted for the MP for Dewsbury rather than Morley. My apologies for referring you to the wrong seat there.
Second, a rather lost and exhausted-looking carrier pigeon has arrived from the Potteries with news that the Stoke-on-Trent Conservatives had dumped the City Independents some time ago and are ruling the city on their own as a minority. The former City Independents councillor, Randy Conteh, had also left the group some time before his resignation from the council which provoked last week's by-election there. Hopefully that's clear.
With that now out of the way there are six local by-elections, for seven seats, on 8th July 2021, with the Conservatives defending three, Labour two, the Lib Dems one and the final seat being a free-for-all. All of today's polls are in the south of England, but there's a wide variety of areas up for election with something for everyone to enjoy. As you will hopefully discover if you read on…
Aldeburgh and Leiston
East Suffolk council; a double by-election following the resignations of Conservative councillors Jocelyn Bond and TJ Haworth-Culf.
A piece of music to get you in the mood, as we start our discussion of today's by-elections with a "venal little borough" on the Suffolk coast. The name "Aldeburgh" comes from Old English words for an "old fortification", which – along with a number of other places along the rapidly-eroding Suffolk coast – no longer exists today. We are left with an old fishing port and minor seaside resort with a notable electoral record.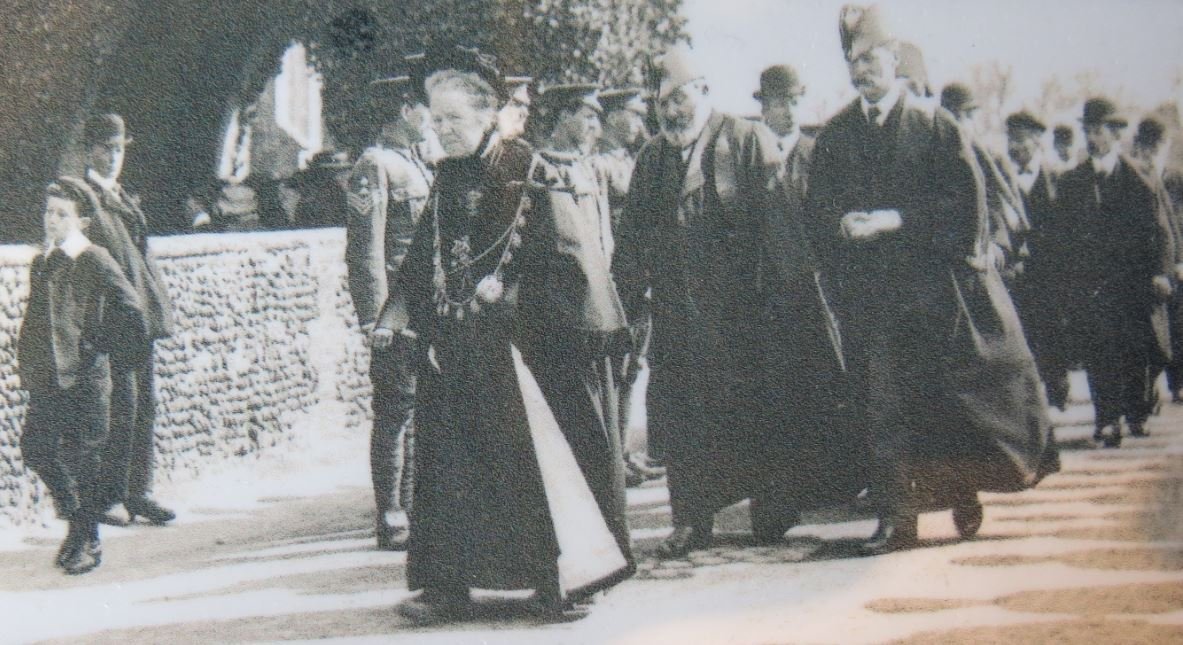 The town of Aldeburgh was enfranchised in 1571, giving its freemen the right to send two members to Parliament. It was one of the rotten boroughs swept away by the first Reform Act in 1832, but its most striking electoral feature came in local government. Elizabeth Garrett Anderson, the first British woman to qualify as a doctor and as a surgeon, retired to Aldeburgh in the early 1900s. As we shall see, she had family in the area, and in 1908 she followed in the footsteps of her father Newson Garrett by being elected as Mayor of Aldeburgh. She was the first woman to serve as a mayor in England.
Given that big leap for equality, it's a bit of a shame that it's not Garrett Anderson's name which immediately comes to mind when the name "Aldeburgh" is mentioned. She's not even the only twentieth-century mayor of Aldeburgh notable enough for Wikipedia: in the 1970s Gerry Fiennes, some years on from trying to run a railway, served a year as the town's first citizen. But they have been upstaged.
In 1942 an up-and-coming composer called Benjamin Britten moved to the town, shortly after reading The Borough, a poetry collection by the nineteenth-century Aldeburgh poet George Crabbe. Britten turned one of Crabbe's poems, Peter Grimes, into an opera which premiered in June 1945 at Sadler's Wells: Britten's partner Peter Pears played the title role opposite Joan Cross, manager of the Sadler's Wells company, in the lead female role of Ellen Orford. Britten, Pears and Cross are still in Aldeburgh today, lying in eternal rest in the town's churchyard.
Peter Grimes was a huge success, firmly establishing Britten as a composer of the first rank. Its prologue scene is set in Aldeburgh's Moot Hall, a timber-framed Tudor building where Garrett Anderson, Fiennes and all the other mayors of Aldeburgh over the centuries have presided over council meetings. Aldeburgh town council is still based in the Moot Hall to this day.
Having given Aldeburgh to the world of music, Britten and Pears then brought the world of music to Aldeburgh with the founding of the annual Aldeburgh Festival, attracting some of the world's greatest musicians to this corner of Suffolk each June. Since 1967 the Aldeburgh Festival has had a permanent home, although not in Aldeburgh itself. Elizabeth Garrett Anderson's father, Newson Garrett, was an entrepreneur who had built a factory in Snape, a few miles up the Alde estuary, which turned Suffolk barley into malt for export down the river to breweries in London and on the Continent. The Snape Maltings complex went out of business in the early 1960s, and was quickly turned into an arts centre under Britten's direction. The largest malthouse in the complex became an 832-seat concert hall, opened by the Queen in 1967 and re-opened by her in 1970 after burning down the previous year.
Snape Maltings wasn't the only industrial centre of note in the Aldeburgh area. Elizabeth Garrett Anderson's great-grandfather, Richard Garrett, founded a company in the nearby town of Leiston in 1778 making agricultural machinery. By the late 19th century Richard Garrett and Sons, under the management of Newson Garrett's brother Richard Garrett III, was the largest employer in Leiston. As I wrote in Andrew's Previews 2018, page 179, they had one of the world's first industrial assembly lines going, with parts going in at one end of the "Long Shop" building and traction engines and other steam-powered vehicles coming out of the other end. Garrett's works went out of business in the 1980s and were mostly redeveloped, but the Long Shop was saved from the demolition men and turned into a museum. For one day only, it's also a polling station for this by-election.
But for all this art and industry, it's energy which is Aldeburgh and Leiston's most important export. To the east of Leiston, next to the North Sea, can be found two rather large buildings: the Sizewell A and B nuclear power stations. Sizewell A is now being slowly decommissioned after generating electricity from 1967 to 2006; Sizewell B, with its distinctive white dome, came online in 1995 as the UK's only commercial Pressurised Water Reactor plant. I wrote three years ago that construction of the next nuclear plant on the site, Sizewell C, seemed "several years off at best"; there has been some progress to report since, as last year EDF Energy put the planning application in to East Suffolk council and applied for the relevant nuclear power licences, but ground is yet to be broken on the scheme.
All this adds up to a fascinating electoral ward, which was created in 2019 for the first elections to the brand-new East Suffolk council. The Conservatives did well in those elections, winning 39 seats out of a possible 55 and generally sweeping the rural wards: but they didn't have it all their own way here. Top of the poll in Aldeburgh and Leiston were two of the three Conservative candidates, Terry-Jill "T-J" Haworth-Culf (who had previously represented Aldeburgh on the predecessor Suffolk Coastal council) and Jocelyn Bond, but the third seat went to independent candidate Tony Cooper who had previously been an independent Suffolk Coastal councillor for Leiston. He won with a majority of three votes over the third Conservative candidate, 1154 to 1151. Shares of the vote were 29% for the Conservatives, 26% for Cooper, 19% for Labour (who can often poll respectably in Leiston, although not usually respectably enough to finish first) and 16% for the Greens.
T-J Haworth-Culf was subsequently elected in May 2021 as the Suffolk county councillor for Aldeburgh and Leiston, defeating Labour in a straight fight by almost two to one. Unusually, the county division of that name is actually smaller than this district ward: it doesn't cover the Snape area or a couple of rural parishes to the north-west of Leiston, which are in different safe-Conservative divisions. Haworth-Culf and her Conservative ward colleague Jocelyn Bond promptly handed in their resignations as East Suffolk councillors; Haworth-Culf is concentrating on her new elected office, while Bond has expressed dissatisfaction with the Sizewell C project.
Defending this double by-election for the Conservatives are Russ Rainger and Andrew Reid. Rainger retired in May as the county councillor for Aldeburgh and Leiston, while Reid was re-elected in May as the county councillor for the Wilford division which includes the Snape area. There are no independent candidates this time, so it will be interesting to see where their votes go. The Labour slate consists of two losing candidates from May, Ian Ilett (the unsuccessful candidate in the Aldeburgh and Leiston county division) and Mark Turner. Matt Oakley, the lead Green candidate for this ward in 2019, returns and is joined by Thomas Daly. who lost to Reid in May's county elections. Completing a ballot paper of seven candidates is Steve Marsling, who has the nomination of the Communist Party of Britain.
Picture of Mayor Elizabeth Garrett Anderson, 1908, from @MunicipalDreams on Twitter.
Parliamentary constituency: Suffolk Coastal
Suffolk county council division: Aldeburgh and Leiston (Aldeburgh, Aldringham cum Thorpe, Knodishall and Leiston parishes), Blything (Middleton and Theberton parishes), Wilford (Benhall, Friston, Snape and Sternfield parishes)
ONS Travel to Work Area: Ipswich
Postcode districts: IP15, IP16, IP17
Thomas Daly (Grn)
Ian Ilett (Lab)
Steve Marsling (Comm)
Matt Oakley (Grn)
Russ Rainger (C)
Andrew Reid (C)
Mark Turner (Lab)
May 2019 result C 1265/1179/1151 Ind 1154/1051 Lab 835/779/612 Grn 717/577/504 LD 429
St Neots East
Huntingdonshire council, Cambridgeshire; caused by the election of Labour councillor Nik Johnson as Mayor of Cambridgeshire and Peterborough.
Not all of East Anglia is rural and full of nice-looking old buildings, as we now demonstrate by turning to two wards which were entirely developed in the last seventy-five years. One of these is in a New Town; the other is much newer than that.
The population of Cambridgeshire has rocketed in recent decades, but (with the notable exception of Cambourne) this growth hasn't been achieved by building entirely new settlements. Instead housing estates have been tacked on to the sides of existing towns and villages. One of the largest of these is the Love's Farm development, started in the last ten years and still growing, which took the town of St Neots over to the east side of the East Coast main line for the first time.
Love's Farm became a ward of its own in 2018, under the name of St Neots East. The development is so new that statistics on it are rather hard to come by. Figures from the 2021 census are not yet available; at the time of the 2011 census the area was part of a larger St Neots ward, Priory Park, but that was really before the development got going. The current ward was drawn with a very low 2015 electorate, to allow room for future growth.
This area was only incorporated into St Neots in 2010. Before then it was part of the now-abolished St Neots Rural parish and the rural ward of Gransden and the Offords. (It's still shown as part of Gransden and the Offords in the Huntingdonshire maps for 2010-16 on the Local Elections Archive Project, as I hadn't appreciated before writing this Preview just how extensive the interim Huntingdonshire boundary changes in the early 2010s were. Apologies for anyone who might have been confused by that.) Love's Farm and other developments have turned St Neots into the largest town in Cambridgeshire without city status, overtaking Huntingdon; and the draft Boundary Commission proposals for the new parliamentary map create a completely new parliamentary seat based on St Neots and the surrounding area.
Huntingdonshire district last went to the polls in 2018, which was a year when the Conservatives did pretty badly in St Neots town. A localist slate swept two of the town's other wards, while East ward surprisingly saw Labour candidate and local children's doctor Nik Johnson top the poll with 40% of the vote, a long way ahead of his running-mate. Johnson had previously been the Labour parliamentary candidate for the local Huntingdon seat in 2017, putting in a decent performance. The Conservatives polled 32% and won the ward's other seat, with the Lib Dems close behind on 28%. Johnson and Tory councillor David Wells' vote totals of 345 and 273 in this two-seat ward were the lowest scores for any winning candidate in Huntingdonshire that year, including those in the district's single-member wards; as indicated above, this isn't an unusually low turnout but a symptom of the ward having an unusually low electorate. If the growth forecasts are any good, the population should be a lot larger now than it was three years ago.
Johnson was one of four Labour councillors elected in Huntingdonshire in 2018, and the only one outside Huntingdon town. He was selected as the Labour candidate for the May 2021 Cambridgeshire and Peterborough mayoral election, campaigning on a ticket to introduce bus franchising to the county and to cancel an ambitious (bordering on crazy) plan from the incumbent Conservative mayor, James Palmer, for an "autonomous metro" for Cambridge. In the first round Palmer topped the poll but only with 41% of the vote, against 33% for Labour's Johnson and 27% for the Lib Dem candidate. In the runoff an unusually-high 73% of the Lib Dem transfers went to Labour, ensuring that Johnson won in the final reckoning by 113,994 votes to 108,195 (51.3% to 48.7%). He promptly delivered on part of his manifesto, cancelling the "autonomous metro" project in his first week in office.
The Cambridgeshire county council elections were held on the same day. This ward is part of the St Neots East and Gransden county division, which the Conservatives lost to an independent candidate by just 9 votes; that was one of the losses which cost them control of the county council, which is now run by a Lib Dem-led coalition of all the other groups. The Tories remain in control of Huntingdonshire council.
We saw in Batley and Spen last week that Labour are capable of defending marginal by-elections caused by their elected representatives becoming metro mayors. They will have to repeat that trick here, because Johnson's seat on Huntingdonshire council was vacated as a result of his election to the mayoralty.
Defending for Labour is Helen Stroud. The Tories have selected Sam Collins, who was on the wrong end of that 9-vote defeat in the county division two months ago. The Lib Dem candidate is Geoff Seeff, a party veteran who has recently relocated to Love's Farm from Waltham Forest: Seeff has stood for Parliament six times, most recently in Chingford and Woodford Green in 2019, and he was the party's candidate for Havering and Redbridge at the first London Assembly elections in 2000. Also standing are Lara Davenport-Ray for the Greens (who also stood here in the county elections in May) and independent candidate Ben Pitt, who represents the area on St Neots town council. The Love's Farm Community Association has interviewed all the candidates, and you can find out more from them here (link).
Parliamentary constituency: Huntingdon
Cambridgeshire county council division: St Neots East and Gransden
ONS Travel to Work Area: Huntingdon
Postcode district: PE19
May 2018 result Lab 345/186 C 273/193 LD 235
Sam Collins (C)
Lara Davenport-Ray (Grn)
Ben Pitt (Ind)
Geoff Seeff (LD)
Helen Stroud (Lab)
Mark Hall
Harlow council, Essex; caused by the death of Labour councillor Danny Purton.
As we have seen, Cambridgeshire's approach to population growth has mostly been to tack bits onto existing towns and villages. The neighbouring county of Essex has historically taken a different tack.
Harlow is unambiguously a New Town. In fact, it was one of the first New Towns, built in the early 1950s to house families which had been bombed out of London; one legacy of that history is that the town has the third-highest proportion of social housing of any district in England. Harlow became an urban district in 1955, and now forms a local government district of its own.
Mark Hall was the first part of the New Town to be completed. It consists of two separate residential areas either side of First Avenue, which are imaginatively named Mark Hall North and Mark Hall South. In Mark Hall North can be found The Lawn, built in 1951 as the UK's first modern residential tower block. Many of the tower blocks which came later have bitten the dust over the years, but The Lawn has survived and it is now a listed building. To the north of Mark Hall North is Temple Fields, a large industrial area next to the River Stort which includes the ward's railway station, Harlow Mill on the West Anglia main line.
This ward has a very strange electoral history, although those who remember the Heneage preview from Grimsby last week may start to feel a sense of déjà vu. It was generally Liberal Democrat until 2008, then developed into a Labour ward. The last Lib Dem councillor for the ward died just before his term was due to end in 2012, and Labour picked the seat up easily. In 2014 one of the Labour councillors resigned for work reasons, resulting in two of the ward's seats being up for election, and UKIP came from nowhere to win both of them. One of the UKIP councillors resigned shortly afterwards on health grounds; Labour's Danny Purton won the resulting by-election in February 2015, and Labour gained the other UKIP seat in May 2015.
Towards the end of the last decade Harlow was in a rather unusual electoral position. Since 2010 it has had a Conservative MP, Robert Halfon, whose position was bolstered by the fact that the town isn't quite big enough to form a parliamentary seat on its own and the Harlow constituency consequently includes a significant amount of rural territory outside the town. Since 2017 the Harlow borough has had a full slate of four Conservatives on Essex county council. But, despite all that, the borough council had a consistent Labour majority. This was partly due to boundary effects, as the Conservative vote in Harlow was not well-distributed. Most of the party's voters were packed into four safe wards, which meant that in an even year nationally Labour would generally win the ward count 7-4; and the district council election years in 2015-19 were all even years. In May 2019, despite some well-publicised left-wing infighting among the ruling group, Labour polled 43% of the vote in Mark Hall ward, to 25% for UKIP and 23% for the Conservatives.
So the 2021 Harlow borough elections must have come as a shock. The Tories won ten of the town's eleven wards in May, some of them for the first time this century, and suddenly found themselves in control of the council with a large majority: they now have 20 councillors, while Labour have 12 left plus this vacancy. The result in Mark Hall ward in particular was something to behold: 61% for the Conservatives against just 32% for Labour, a swing since 2019 of nearly 25%.
Danny Purton, who had been a senior manager at the council before his election in 2015, passed away a few days before the May election. The by-election to replace him is looking like a difficult defence for the Labour candidate Kay Morrison, who will have to call on all of her extensive previous local government experience. Before she relocated to Harlow from Scotland, Morrison was a member of Fife council from 1999 to 2017, representing wards in another New Town (Glenrothes) and serving as depute provost of Fife. She was also the Labour candidate for Mid Fife and Glenrothes in the 2016 Scottish Parliament election. The Conservative candidate is John Steer. The ward's regular Lib Dem candidate Lesley Rideout, who lost her council seat here in 2011 and has tried to get it back at every election from 2014 onwards, is having another go; she completes the ballot paper along with Jamie Gilbert of the Green Party.
Parliamentary constituency: Harlow
Essex county council division: Harlow North
ONS Travel to Work Area: Cambridge
Postcode district: CM20
Jamie Gilbert (Grn)
Kay Morrison (Lab)
Lesley Rideout (LD)
John Steer (C)
May 2021 result C 1033 Lab 539 LD 120
May 2019 result Lab 613 UKIP 354 C 335 LD 139
May 2018 result Lab 761 C 503 UKIP 140 LD 121
May 2016 result Lab 751 UKIP 449 C 390 LD 104
May 2015 result Lab 1296 C 1060 UKIP 731 LD 175
February 2015 by-election Lab 586 UKIP 353 C 334 Grn 55 LD 47
May 2014 double vacancy UKIP 662/646 Lab 602/599 C 346/346 LD 137/124
May 2012 result Lab 849 C 440 LD 312
May 2011 result Lab 913 LD 555 C 542
May 2010 result Lab 1145 LD 1114 C 961
May 2008 result LD 744 C 681 Lab 599
May 2007 result LD 752 Lab 740 C 570
May 2006 result LD 761 Lab 735 C 562
June 2004 result Lab 800 LD 584 C 381 Ind 290
May 2003 result LD 598 Lab 510 C 179 Socialist Alliance 48
May 2002 result LD 1098/1091/1075 Lab 791/782/772 C 276/269/255
Ardingly and Balcombe
Mid Sussex council; caused by the death of Conservative councillor Andrew Macnaughton.
We travel south of London to the High Weald of Sussex. The Ardingly and Balcombe ward is a landscape of woods and hills to the south of Crawley; not easy territory through which to thread a railway, and the builders of the Brighton Line had to construct a long tunnel to the north of Balcombe and a long viaduct over the River Ouse to the south of it. In between is Balcombe railway station, which has brought the area within the range of London commuters.
If Balcombe has a commuter dependence, as do the villages of Pease Pottage and Handcross on the main road from Crawley to Brighton, Ardingly (pronounced "Ardinglye", apparently) has an economic base of its own. This is partly due to the presence of Ardingly College, a boarding school which propels the ward into the top 100 in England and Wales for the 16-17 age group; a number of future Conservative MPs have passed through Ardingly over the years, and other Old Ardinians include the Private Eye editor Ian Hislop, the author Neil Gaiman and the upper-class twit Tim Nice-But-Dim. To the north of the village is Wakehurst, a sixteenth-century stately home whose grounds have been taken over by Kew Gardens. Also here is the South of England Showground, an excellent venue for the sort of events which – oh.
The late councillor Andrew Macnaughton had served this ward as a councillor continuously since 1987. At the time of his death he was Mid Sussex council's cabinet member for housing and planning. He had a safe ward, notwithstanding a rather large fall in the Tory vote here in 2019: the Conservative slate polled 39% against 27% for the Liberal Democrats and 23% for the single Green candidate. In May's election to West Sussex county council the local Worth Forest county division was much safer for the Tories.
Defending for the Conservatives is Lorraine Nunes-Carvalho, who lives in the Balcombe area: she is a finance director for a company providing services to the hotel and leisure industry. The Lib Dem candidate is Ben Jerrit, a teacher at Ardingly College who has previously worked behind the camera in the TV and film industry; his credits include a number of episodes of The Bill and EastEnders and a Harry Potter film. The Greens have selected Jenny Edwards, a business coach and West Hoathly parish councillor. Completing the by-election is independent candidate Carole Steggles, a parish councillor in Turners Hill (not part of this ward) who also stood here in the county elections two weeks ago. The Mid Sussex Times has interviewed all the candidates, and you can find out more here (link).
Parliamentary constituency: Horsham
West Sussex county council division: Worth Forest
ONS Travel to Work Area: Crawley
Postcode districts: RH10, RH11, RH16, RH17, RH19
Jenny Edwards (Grn)
Ben Jerrit (LD)
Lorraine Nunes-Carvalho (C)
Carole Steggles (Ind)
May 2019 result C 684/642 LD 470/404 Grn 409 Lab 192
May 2015 result C 1620/1596 Grn 692 Ind 594 Lab 543
May 2011 result C 1233/1104 LD 556
May 2007 result C 934/879 Grn 396 LD 387
May 2003 result C 868/706 LD 328/222
Feniton; and
Honiton St Michael's
East Devon council; caused respectively by the resignations of independent councillor Susie Bond and Liberal Democrat councillor Luke Jeffery.
We finish in the West Country with a trip to the East Devon district. This is one of the larger second-tier districts, covering nearly everything in Devon to the east of Exeter. Exmouth is the major town in the district, with other towns including Sidmouth on the coast and, inland, Honiton.
Honiton is an old market town, located on the Fosse Way and the A30 London-Exeter road and known for its Georgian architecture and its traditional lace-making industry. The Georgian buildings are a byproduct of the town having been mostly destroyed by fire in the mid-eighteenth century; and heat is also a feature of the town's annual Hot Pennies ceremony, dating from the Anarchy, in which warm pennies are thrown from balconies in the High Street to crowds of local people each of July. The Hot Pennies organisers are hoping for a particularly special event this year on 27th July, to mark the 800th anniversary of Honiton's market charter. The town is divided into two wards, of which St Michael's is the south-western one.
Immediately to the south-west of Honiton lies the Feniton ward, covering three parishes in the Devon countryside. Feniton village was greatly expanded by the coming of the railways, to the extent that it's actually two separate settlements: the original Feniton around the parish church, and the larger "New Feniton" around the railway station. There was a junction here on the Waterloo-Exeter main line for branch line trains to Sidmouth, and until the 1960s the station had the name "Sidmouth Junction". The station then fell victim to the Beeching cuts, but this closure was quickly reversed in 1971.
The Conservatives had badly underperformed in this corner of Devon in recent years. In the 2019 elections they crashed to 20 out of 60 seats, and the administration was taken over by an independent-led coalition which includes the Lib Dems and Green Party. The Tories did, however, stop the rot in the 2021 Devon county elections, holding all their seats in the district and gaining a seat from the independents on both the county council and in a district council by-election. Both of today's by-elections take place within the Feniton and Honiton county division, which swung strongly to Labour but was still safe Conservative. Given that, what chance of two more Tory gains here?
Well, Honiton St Michael's could be a distinct possibility. The Conservatives have topped the poll in every election here since 2007, including a by-election in July 2016 (Andrew's Previews 2016, page 130). On slightly adjusted boundaries, in 2019 the Conservative slate were opposed only by Lib Dem councillor Luke Jeffery who was elected in third place; shares of the vote were 53% for the Conservatives and 47% for the Lib Dems.
For Feniton, however, your guess is as good as mine. Independent councillor Susie Bond won the ward (then known as "Feniton and Buckerell") at a by-election in May 2013, and has been re-elected twice since with extremely large shares of the vote. In 2019 she polled 83% against Conservative and Labour opposition.
No independent candidate has come forward to succeed Bond in Feniton, so that's a lot of votes up for grabs. The Conservatives have picked a candidate with local government experience: Alasdair Bruce, a beekeeper, was a Thanet councillor from 2007 to 2015 and set on that council's cabinet. The Labour candidate is local resident Linda Baden. Finally, the Liberal Democrats contest Feniton ward for the first time since 2011; their candidate is Todd Olive, a Warwick University postgraduate student who is fighting his second East Devon council by-election in three months, as he was the losing candidate in the Whimple and Rockbeare by-election last May.
For Honiton St Michael's the defending Liberal Democrat candidate is Jules Hoyles, a former chairman of the party's Tiverton and Honiton branch. He fought Axminster in May's county elections. Returning for the Conservatives is the winner of the 2016 by-election, Jenny Brown; in 2019 she attempted to transfer to the town's other ward, Honiton St Paul's, but lost to her running-mate by one vote. Due to what appears to be an error in filling out her nomination papers, she will appear on the ballot as "Brown Jenny". Completing the Honiton St Michael's ballot paper is Labour's Jake Bonetta, who put in a creditable performance here in the county council elections in May.
Feniton
Parliamentary constituency: Tiverton and Honiton
Devon county council division: Feniton and Honiton
ONS Travel to Work Area: Exeter
Postcode districts: EX5, EX14
Linda Baden (Lab)
Alasdair Bruce (C)
Todd Olive (LD)
May 2019 result Ind 638 C 97 Lab 37
(Previous results as "Feniton and Buckerell")
May 2015 result Ind 1048 C 288
May 2013 by-election Ind 772 C 113
May 2011 result C 512 LD 394
May 2007 result C 401 LD 391
May 2003 result C 420 LD 258 Lab 61
Honiton St Michael's
Parliamentary constituency: Tiverton and Honiton
Devon county council division: Feniton and Honiton
ONS Travel to Work Area: Exeter
Postcode district: EX14
Jake Bonetta (Lab)
Jules Hoyles (LD)
Brown Jenny (C)
May 2019 result C 790/763/530 LD 700
---
If you enjoyed these previews, there are many more like them – going back to 2016 – in the Andrew's Previews books, which are available to buy now (link). You can also support future previews by donating to the Local Elections Archive Project (link).
Andrew Teale
Andrew Teale is the Britain Elects previewer. He edits the Local Elections Archive Project, sometimes tweets at @andrewteale and plays quiz a bit. Read his meticulously-researched previews for the full lowdown on each local by-election, what you need to know and why you might (or might not) want to visit.