The May 2021 elections, previewed (Part II): the North and Midlands
"All the right votes, but not necessarily in the right order"
Welcome to Andrew's Previews' lowdown on the May 2021 elections, which promise to be the biggest electoral event of this Parliament. The whole of Great Britain is due to go to the polls. And there's not just one type of election involved: many voters will have two, three or (in some cases) four or more ballot papers to juggle, and multiple electoral systems abound. It's complicated.
Because of its extraordinary length this Preview will be split into four parts, set out as follows:
Introduction, Scotland, Wales and London.
The North and Midlands.
The South and East.
The Parliamentary Special; and concluding remarks.
Introduction
Parts II and III of this preview divide England (outside London) up into its police areas. Each section starts with a discussion of the Police and Crime Commissioner and (if any) the combined authority mayoral election, followed by the local councils within the police area.
These previews will make a lot of comparisons with 2019, for the purpose of establishing something of a "par score". The May 2019 local elections took place in a political scene much more like May 2016 than May 2017 and, unusually, happened at a time when both major parties were in a weak position but while the new forces taking votes off them, the Brexit Party and Change UK, were not ready for prime time. While there was a lot of anti-incumbent sentiment about, those new parties were unable to take advantage as they had no candidates; so that anti-incumbent sentiment manifested itself in many areas with large shares for independent candidates and localist parties. These small groups had been mostly swamped in 2015 by general election turnout, so 2019 marked something of a renaissance for them.
Since March 2020, local by-elections in England have been suspended due to reasons which are obvious. Some local by-elections have taken place in Wales, and the Scottish returning officers have efficiently cleared their vacancy backlog, but in England we have no information from real-life elections as to how things are going. We only have the national opinion polls, which suggest a national picture closer to May 2017 (when the Conservatives were well ahead in the opinion polls and in the local elections) than to May 2016 (when the two main parties were neck-and-neck). How this will translate into a series of local pictures is extremely difficult to predict, but one reasonable guess might be that the Conservatives consistently do better than the 2019 "par scores" set out in this preview.
Because of the limited space and time available and the extraordinary number of by-elections, I have applied a much stronger than usual filter when naming candidates in the 6th May previews. All mayoral and PCC candidates have been namechecked, but by-election candidates are generally only named in this text if their party was within 10% last time out. For a full list of by-election candidates I will refer you to this file (link). If you're a by-election candidate and you're not happy with not having your name in this preview, then I would love you to prove me wrong by going ahead and winning your contest. In most cases you can click on each by-election's name to see previous results from the Local Elections Archive Project. As usual, the maps are the results from the last time the seats up for election were contested, in most cases 2016 or 2017 – one electoral cycle ago.
Despite my best efforts, I am fully aware that there will be mistakes in this preview. Have fun finding them.
So now, here is Part II, covering the north of England and the English Midlands. With the exception of the Cleveland police area, which will be the focus of Part IV.
Arrangement of police areas
Northumbria
Durham

Cumbria
Lancashire
Merseyside
Cheshire
Greater Manchester
West Yorkshire
North Yorkshire
Humberside
South Yorkshire
Derbyshire
Nottinghamshire
Lincolnshire
Northamptonshire
Leicestershire
Warwickshire
West Midlands
Staffordshire
West Mercia
Northumbria
Police and Crime Commissioner
Vera Baird, the former Labour MP for Redcar, was Northumbria PCC from 2012 until 2019 when she resigned to become Victims' Commissioner for England and Wales. The resulting by-election, held in July 2019, saw Labour's Kim McGuinness, a Newcastle upon Tyne city councillor, take the lead on first preferences: 38%, against 22% each for two Northumberland councillors, independent candidate Georgina Hill and Conservative Robbie Moore; the Lib Dems coming in fourth and last with 19%. Having placed second narrowly ahead of Moore, Hill got into the runoff and picked up most of the transfers, meaning that McGuinness was elected in the final reckoning by the narrow margin of 52-48.
McGuinness is seeking re-election. Georgina Hill has not returned but there is a new independent candidate, NHS doctor Julian Kilburn. The Tories have had to change candidate after Robbie Moore got elected to Parliament in December 2019 (more on that story later) and they have selected Duncan Crute. Completing the ballot paper is Gateshead councillor Peter Maughan, standing for the Lib Dems.
Local elections
The whole of Northumberland county council is up for election along with one-third of the seats in the five Tyne and Wear boroughs and the elected mayoralty of North Tyneside.
The Conservatives almost won an overall majority in Northumberland in May 2017. Their 12 net gains, for a total of 33 seats, were mostly due to a collapse by the Lib Dems who lost all their seats in the Berwick upon Tweed constituency. However, the Conservatives did also gain two seats in Cramlington (one of them from an obscure Labour councillor called Laura Pidcock, who subsequently had an ill-starred Parliamentary career in North West Durham) and they tied for first place in the South Blyth division whose Lib Dem councillor was re-elected on the returning officer's drawing of lots. This was a sign of things to come: Cramlington and Blyth are both in the Blyth Valley constituency which was the first declared Conservative gain of the December 2019 general election. With 33 seats against 24 for Labour, 7 independents and 3 Lib Dems the Conservatives formed a minority administration, although they're a man down at the moment after Robbie Moore went off to become MP for Keighley. His seat in Alnwick is vacant, and this was crucial in 2020 when the then Conservative leader Peter Jackson lost a confidence vote over a whistleblowing scandal by 33 votes to 32.
The largest of the five Tyne and Wear boroughs is another early declarer: the city of Sunderland. This column wrote in 2019 that Sunderland has a Labour administration which is very locally unpopular while also having a very secure majority, and despite the fact that Labour lost 12 councillors in 2019 that's still true. The Labour group currently has 51 seats (three of which are vacant), against 12 Conservatives, 8 Lib Dems, 3 UKIPpers and 1 Green (whose seat is vacant). There are 10 wards with split representation and Labour are defending every single one of them; but for the party's majority to be in serious danger they'd have to do far worse even than in 2019..
North Tyneside is different to the other four Tyne and Wear boroughs in that it has an elected mayor. The mayoralty has been held by both Labour and the Conservatives in the past with a number of very close results, but the last mayoral election in 2017 had a big lead for Labour's Norma Redfearn who was re-elected in the first round with a 56-31 lead over the Conservatives.
Redfearn is seeking re-election for a third term as Mayor. The Conservatives have selected Steven Robinson, a Royal Marine turned British Gas engineer. Also standing are John Appleby for the Lib Dems, Jack Thomson for UKIP and Penny Remfry for the Green Party.
Including vacancies, Labour hold 51 of the 60 seats on North Tyneside council against 7 Conservatives, a Lib Dem and an independent. A repeat of the 2019 results would result in no change to the Labour total, as they would pick up the Lib Dem seat in Northumberland ward to offset a net loss to the Conservatives. In the event that the Conservatives gain the mayoralty, it's likely that the new mayor will have to cohabit with a Labour-majority council.
Labour are secure in the other three Tyne and Wear boroughs, although they may suffer a net loss of seats in South Tyneside, where there has been some infighting in the Labour group, and in Newcastle upon Tyne where the Lib Dems and localists did reasonably well in 2019.
Durham
Police and Crime Commissioner
Ron Hogg, who had led the English police response against football hooliganism during the 2002 FIFA World Cup in Japan and South Korea, had been the Durham PCC since 2012. In 2016 he was re-elected in the first round, defeating the Conservatives 64-24. Hogg died in December 2019 and his deputy, Steven White, has been serving as PCC in an acting capacity since then.
The Labour Party have selected Joy Allen as their new candidate for Durham PCC; she is the Mayor of Bishop Auckland and a cabinet member on Durham county council. The Tories' George Jabbour, who claims to be the only candidate ever to run for election in all four nations of the UK, adds a PCC run to his previous attempts at elections to Parliament (in Inverclyde), the Senedd (in Bridgend), the Northern Ireland Assembly (in Belfast South) and three local authority mayoral elections (in Doncaster, Mansfield and Watford). He's never been particularly close to winning on any of those occasions. Anne-Marie Curry completes the ballot paper for the Lib Dems.
Local elections
There are whole council elections this year for Durham council. The last elections here were in 2017 and left Labour with a reduced majority. They won 74 seats against 25 for various categories of independents and localists, 14 for the Liberal Democrats (who are particularly strong in Durham city), 10 Conservatives and 3 seats for the North East Party, a regionalist movement with a powerbase in the New Town of Peterlee. None of the ten Conservative councillors were elected in the North West Durham constituency, which the party now holds in Westminster. There have been six by-elections since 2017, with Labour holding three, the Lib Dems holding one and gaining one from Labour, and a very fragmented by-election in Spennymoor in May 2019 which saw an independent candidate finish in first place with just 19% of the vote, succeeding a different independent.
There are no scheduled local elections this year in Darlington, but that borough will take part in the Tees Valley mayoral election which is discussed in the forthcoming Part IV of the preview. Darlington council does have two by-elections: Paul Howell, the new Conservative MP for Sedgefield, has vacated his seat in Hummersknott ward on the western edge of town, while on the eastern edge of town Labour are defending the Red Hall and Lingfield ward which Howell unsuccessfully contested in 2015. Both of those wards were safe in 2019, although Red Hall and Lingfield was fairly close in a November 2017 by-election (Andrew's Previews 2017, page 343).
Cumbria
Police and Crime Commissioner
The Cumbria PCC position has been held by the Conservatives since 2012. Peter McCall, a former Army officer who commanded a squadron during the Bosnian war, has served since 2016. On the first count he had 34% of the vote against 24% for Labour, 17% for the Lib Dems and 15% for an independent candidate; in the runoff McCall defeated the Labour candidate by 58-42.
McCall is seeking a second term. Labour have selected former Allerdale councillor Barbara Cannon. The Liberal Democrat candidate is Loraine Birchall, chair of the party's Barrow and Furness branch. The independent from last time has not returned, so those are your three candidates.
Local elections
When it comes to discussion of Cumbrian local elections, there's really only one place we can start.
This is your columnist's photograph of the Cursing Stone. Located in a pedestrian subway just outside Carlisle Castle in the city centre, and installed in 2001, it's a polished granite boulder inscribed with a 1,069-word curse placed on border reivers in 1525 by Gavin Dunbar, then archbishop of Glasgow. It has cursed Carlisle.
That's a strong statement to make, but consider: in the year the Stone was installed the farms of Cumberland were devastated by foot-and-mouth disease. The city has suffered a series of devastating floods, in 2005 and the Storm Desmond flood of 2015, which took out the McVitie's factory and led to a national biscuit shortage which lasted for months. The Cursing Stone has taken the blame for a series of well-publicised crimes, hits to the local economy and even Carlisle United's relegation from the football league in 2004. Coincidence?
Consider also: after the 2005 flood Jim Tootle, city and county councillor for Castle ward which then covered the Cursing Stone, proposed to the city council that it be removed or destroyed to prevent any further nasty things happening. The council voted to keep it. Seven years later Tootle was dead at the age of 59, and since then a series of other councillors for Castle ward have died at an early age or resigned. Since the Cursing Stone was installed, Carlisle's Castle ward has had a horrific councillor attrition rate, with nine by-elections here (either at city or county level) in the fifteen years from 2001 to 2016. Coincidence?
Consider also: the scheduled elections this year for the whole of Cumbria county council and one-third of Carlisle and South Lakeland councils have been cancelled, pending a possible reorganisation of local government in the area. As a result, only the PCC elections and a series of by-elections are taking place in the county on 6th May. One of these is a by-election to Carlisle city council for the renamed and redrawn ward of Cathedral and – you guessed it – Castle.
Coincidence?
Cathedral and Castle, Carlisle's city-centre ward, is just one of three by-elections in Carlisle which Labour have the task of holding on 6th May. These days it's a safe Labour ward, as is Newtown and Morton North ward in the inner west of the city; Labour also have a full slate of councillors in Harraby South and Parklands ward, along the London Road at the south-eastern entrance to the city, but the Conservatives and UKIP were both fairly close behind at the only previous poll on these lines in 2019. UKIP haven't returned, but the Conservatives have selected Linda Mitchell in Harraby South and Parklands, while the defending Labour candidate there is Abdul Harid. The Labour defences in the other two Carlisle city by-elections are led by Pete Sunter (Cathedral and Castle) and David Graham (Newtown and Morton North).
The Carlisle returning officer also has the task of organising a by-election to Cumbria county council in the Brampton division. This covers the town of Brampton, on the road and railway line from Carlisle to Newcastle, as well as six other parishes to the north-east of the town. Brampton division was safe Conservative at the last county council elections in 2019, and their defending candidate is Mike Mitchelson.
The returning officer for Allerdale is even busier, with seven by-elections to arrange. Two of these arise from the death of Joe Holliday, who was an independent member of both the district and the county councils. His district council ward was St John's, the eastern ward of Workington town; his county council seat of St John's and Great Clifton added two villages to the east of Workington. St John's returned two independents and a Labour councillor in 2019, while the county division was close between Holliday and Labour in 2017. Independent district councillor Paul Scott is standing to replace Holliday in the county by-election, while the district by-election has two defending independent candidates (George Campbell and Andrew Eccles); the Labour candidate for both by-elections is Antony McGuckin, who was runner-up to Holliday in 2017.
Facing St John's ward across the River Derwent is the Seaton and Northside ward of Allerdale council, which has been vacated by the new Workington MP Mark Jenkinson. Jenkinson was first elected to the predecessor Seaton ward in 2015 as a UKIP candidate, the other two seats in Seaton going to his Kipper running-mate Joe Sandwith and Labour's Celia Tibble. In the revised ward in 2019 Sandwith again topped the poll, this time as an independent candidate; a second independent was elected; and Jenkinson was re-elected to the final seat with the Conservative nomination and a massive personal vote. He polled 582 votes, enjoying a majority of 36 over the Labour slate, while his Tory running-mates only scored 117 and 97. Can all that Conservative vote transfer to another candidate? The Tories' Colin Sharpe will hope it can, while independent Aileen Brown and Labour's Beth Dixon will attempt to prove otherwise.
The Conservatives will fancy their chances of gaining two by-elections in the town of Cockermouth. One is for the county council in Cockermouth North, which was a Lib Dem gain from the Conservatives in 2017; Fiona Jayatilaka is the defending Lib Dem candidate here, while the Tories have selected Catherine Bell. The Allerdale district ward boundaries divide Cockermouth east-west rather than north-south, with Labour defending a by-election in Christchurch, the town's western ward; this was close between Labour and Conservative in 2019, and Labour's Helen Tucker has work to do to hold off the Tories' Alan Kennon.
Another chance of a Conservative pickup arises in the Ellen and Gilcrux ward, covering three parishes along the River Ellen to the east of Maryport. This ward elected the Labour slate in 2019, but one of the Labour councillors has been kicked off for non-attendance and the Tories are just about within marginal range. Martin Harris is the defending Labour candidate, while Patrick Gorrill will try to gain for the Conservatives. The neighbouring ward of Aspatria (pronounced a-SPAY-tree-a, for those who weren't aware) was the only seat won in 2019 by the localist movement Putting Cumbria First; the localist councillor defected to the Conservatives before resigning, and with no new Putting Cumbria First candidate the Tories' Lucy Winter will attempt to convert their defection gain into a by-election gain.
There are enough by-elections here that they could make a significant difference to control of Allerdale council, which currently stands at 17 independent councillors, 15 Conservatives, 12 Labour and 5 vacancies. An Independent-Conservative coalition was formed after the 2019 elections, but this has recently collapsed leaving the Conservatives in minority control.
In Copeland district, we finally get around to the by-election in Whitehaven Central ward which was postponed from March 2020. For those who haven't been to Whitehaven, you should: despite the predations of John Paul Jones it's a rather handsome port full of nice Georgian buildings. Whitehaven Central ward was created for the 2019 election, at which it split its three seats between two Labour candidates and an independent with the Conservatives not far behind. Joseph Ghayouba defends for Labour, Richard Donnan stands as an independent candidate, and there may be some confusion generated by the Conservatives and the Heritage Party nominating two different candidates both called William Dixon.
We finish our tour of Cumberland as was by travelling to Eden district. A few years ago Andrew's Previews visited the most White British ward in England and Wales, Hartside ward on the western slopes of the High Pennines (Andrew's Previews 2018, page 47); on that occasion Robin Orchard succeeded his late wife Sheila as the ward's Conservative councillor. Sheila Orchard, incidentally, had taken the seat over from John Lancaster, the father of the former England rugby head coach Stuart Lancaster. I am sorry to report that councillor Robin Orchard has since passed away in his turn. Orchard won the 2018 by-election easily and nobody opposed his re-election in 2019; for this by-election the defending Conservative candidate is Raymond Briggs (no, not that one). There is also a poll in Skelton ward, covering two far-flung parishes on the road from Penrith to Wigton and taking in the village of Unthank (no, not that one), which is vacated by the former Conservative council leader Kevin Beaty. Beaty had represented the ward since 2011 but only faced one contested election, defeating the Lib Dems easily in 2019; Colin Atkinson will try to hold his seat for the Conservatives. The Conservatives lost control of Eden council in 2019, and a recent attempt by them to topple a rainbow anti-Conservative coalition failed.
Two by-elections take place to Barrow-in-Furness council. Hindpool ward, covering part of the town centre and points west, is a very safe Labour area where their candidate Jo Tyson should knock out the opposition. The Conservatives' Jay Zaccarini should have few problems defending the village of Roosecote, just to the east of the town.
The Conservative challenge to the Tim Farron political machine in South Lakeland may have been dented by the retirement from frontline politics of James Airey, who was leader of the Conservative group on the county council and had also previously led the Conservative group on Lancaster council. Airey was the Conservatives' parliamentary candidate for Westmorland and Lonsdale in 2017 and 2019, losing narrowly to Farron on both occasions. He has taken up a new position with the National Farmers' Union.
Accordingly we have by-elections for Airey's seats on Cumbria county council and South Lakeland council. His county seat was Ulverston West; the town of Ulverston is developing a bit of a counter-culture vibe, but Airey had a large majority in 2017 and Andrew Butcher, the Conservative candidate for the county by-election, will start as favourite. Ulverston West has no overlap with Airey's district seat of Furness Peninsula, which must be a strong candidate for the UK's most cthulhoid ward. I mean, just look at it.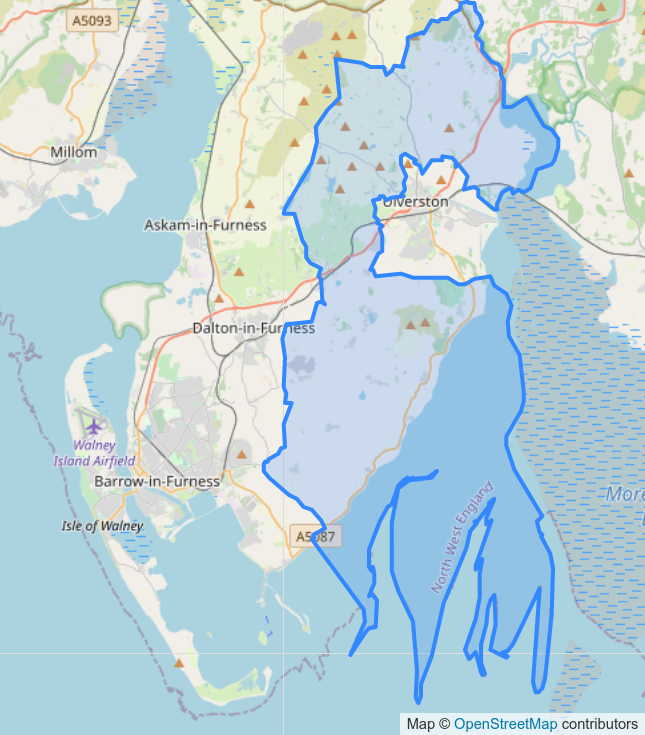 Ph'nglui mglw'nafh Cthulhu R'lyeh wgah'nagl fhtagn. Thankfully Cthulhu is not qualified to be a councillor as the house at R'lyeh is outside the boundaries of South Lakeland district; as such the electors will be unable to vote for the greater evil on this occasion. In the real world Furness Peninsula ward returned three Conservative councillors in 2018, the first contest on these boundaries, with the Lib Dems close behind; and the 2019 election saw the Lib Dems gain a seat. So this is one to watch between the defending Conservative candidate Ben Cooper and the Lib Dems' Loraine Birchall, who is also standing in the Ulverston West county by-election and for Police and Crime Commissioner.
There are three other by-elections to South Lakeland council on 6th May, two of which are difficult Conservative defences within the Lake District National Park. Broughton and Coniston ward split its three seats between two Conservatives and a Lib Dem in 2018 and was a Lib Dem gain in 2019. The final Conservative seat is up in this by-election, with their candidate Matt Brereton (who lost his seat in 2019) up against the Lib Dems' Heather Troughton. Kendal Rural ward wraps around the north of the town to take in the Lune Gorge, which travellers on the motorway and railway line to Carlisle and Glasgow will traverse; the largest settlement here is Staveley-in-Kendal. This ward returned two Lib Dems and a Conservative in 2018 with the Lib Dems holding one of their two seats in 2019; the Conservative seat is up in this by-election, and their candidate Luke Gudgeon will hope to defeat the Lib Dems' Ali Jama.
We finish our tour of Cumbria's by-elections on the county's south coast, in the Victorian seaside resort of Grange-over-Sands. This forms the Grange ward of South Lakeland council, which was close between the Lib Dems and Conservatives in 2018 but was safe Lib Dem in 2019. Pete Endsor is their defending candidate.
Lancashire
Police and Crime Commissioner
The Lancashire police and crime commissioner is Labour's Clive Grunshaw. In May 2016 he polled 44% in the first round against 32% for the Conservatives and 17% for UKIP, and went on to win the run-off by a 56-44 margin.
Grunshaw is seeking re-election for a third term. The Conservatives have selected Lancashire county councillor Andrew Snowden. UKIP's 2016 candidate James Barker stands again with the Reform UK nomination, and the ballot paper is completed by Neil Darby for the Liberal Democrats.
Local elections
There are elections this year for the whole of Lancashire county council, the whole of Chorley and Pendle councils on new ward boundaries, and one-third of Blackburn with Darwen, Burnley, Hyndburn, Preston, Rossendale and West Lancashire councils.
Lancashire county council has swung rather wildly in recent years: Labour in 2005, Conservative in 2009, hung in 2013 with Labour as the largest party, Conservative in 2017. That election returned 46 Conservative councillors against 30 Labour, 4 Lib Dems, 2 independents, a Green councillor and the only UKIP councillor returned in 2017 (in Padiham and Burnley West; he is now in the Conservatives, and leads the Tory group on Burnley council as we shall come to later). The Tories had a majority of 8 seats which rests on particularly good results in marginal Rossendale and Colne and the New Town territory of Leyland. There are a large number of marginal divisions in these areas, and on current polling this will be a difficult council for the Conservatives to defend.
The Conservatives did particularly well in East Lancashire at the 2019 general election, but generally this wasn't off a strong local government base. Their strongest council is Pendle covering the towns of Nelson and Colne, but the Conservatives lost control here in May 2019 to a Labour/Lib Dem coalition. There are new ward boundaries in Pendle this year with all the seats up for election; at the time of writing the Conservatives hold 22 seats (two of which are vacant), Labour 16 (one of which is vacant), the Lib Dems have 9 (one of which is vacant) and there is one independent. One of the Tory vacancies is in respect of the new Bury South MP Christian Wakeford, who was the group leader here before he entered the Commons; Wakeford was subsequently thrown off Pendle council under the six-month non-attendance rule, which doesn't say much for his organisational skills.
Further down the Calder valley we come to Burrnley, which elected MPs from all three main parties in the last decade but whose council elections tell a rather different story. Labour lost their majority on Burrnley council in May 2019, and the council currently stands at 22 Labour seats against 8 Lib Dems, 6 members of the Burnley and Padiham Independent Party, 6 Tories (three of whom were elected for UKIP, whose council group have effectively performed a reverse takeover of the Burnley Conservatives), 2 Greens and an independent. A rainbow anti-Labour coalition was formed after the 2019 election, but this fell apart in September 2020 and Labour are back in minority control. If the 2019 results are repeated, Labour would lose Trinity ward to the Greens and Rosegrove with Lowerhouse to the localists.
Hyndburn district (based on Accrington) has a Tory MP now but a large Labour majority on its council, which currently stands at 26 Labour seats (one of which is vacant) and 8 Conservative seats (two of which are vacant). The vacant seats are in the politically split wards of Barnfield (in eastern Accrington), Overton (in Great Harwood) and St Andrew's (in Oswaldtwistle). The Overton ward has a rather tasty candidate list, with the defending Labour candidate being former council leader and Lancashire MEP Michael Hindley, and the Conservatives having selected Gareth Molineux who has previously been a Labour councillor for the area at both district and county level. A repeat of the 2019 results would result in two seats swapping to give no net change here.
By contrast Labour have a difficult defence of Rossendale council over the moors in the upper Irwell valley. They currently hold 19 out of 36 councillors, against 13 Tories and 4 independents and localists. This time Labour are defending two wards (plus one held by a councillor who was expelled from Labour and isn't standing again) which voted Conservative in 2019 together with Eden ward, a normally-Tory area which surprisingly went Labour in 2016 in the aftermath of severe flooding in Irwell Vale on Boxing Day 2015. This is one to watch.
South-facing Rossendale is paired for parliamentary purposes with north-facing Darwen, which is part of the borough of Blackburn with Darwen. This is strongly Labour (34 out of 51 seats at present) and if the 2019 results are repeated Labour would gain one seat from the Conservatives. The councillors up for election here were last elected in 2018 following boundary changes.
Perhaps surprisingly Labour have an even larger majority on Chorley council (37 out of 47 seats), having gained five seats here from the Conservatives in 2019. There are new ward boundaries in Chorley this year with all the seats on the council up for election, which may give the Tories some chance of fighting back although they start a long way behind.
New ward boundaries came in last year for Preston, resulting in a Labour majority with 30 seats against 9 each for the Tories and Lib Dems. Only one ward could be reasonably described as marginal on the basis of the 2019 results (Tory-held Sharoe Green ward in Fulwood) so we shouldn't expect much if any change here.
West Lancashire elections are normally a snoozefest, this being an extremely polarised district where two-party swings are low; however, this year promises to be interesting. Currently Labour have 29 seats, the Conservatives have 19 and there are 6 councillors from the OWL group. The OWLs are not what they seem: the initials represent Our West Lancashire, a localist group which won all three wards in Ormskirk in the 2019 election. This time round Labour are defending two of the Ormskirk wards, and if they lose them both it will probably be No Overall Control time.
There are nine other local by-elections to report. In the politically-balanced South Ribble council Labour defend the St Ambrose ward in central Leyland, while the Conservatives defend the Longton and Hutton West ward off the Preston-Liverpool road; these are safe wards and should return Labour's Kath Unsworth and the Tories' Julie Buttery respectively.
Further up the Ribble Valley we come to three Tory-held wards in the Ribble Valley local government district. Mellor ward covers three parishes immediately to the north-west of Blackburn; Billington and Langho ward is the northern terminus of the Devil's Highway, the A666 from Blackburn; West Bradford and Grindleton covers two villages north of Clitheroe which were once part of Yorkshire. All of these are very safe Conservative wards. The defending Tory candidates are Steve Farmer in Billington and Langho, Robin Walsh in Mellor and Kevin Horkin in West Bradford and Grindleton. For previous results in all three wards see here (link).
Blackpool council has recently lost two veteran councillors. Lily Henderson may have been the oldest serving local councillor in the UK when she died in January at the age of 94; she had first been elected to Blackpool council in 1983 as a Conservative, and since 2000 she had represented Highfield ward in the south of the town. Her death leaves a tricky by-election in a marginal ward which has split its two seats between Labour and the Conservatives since 2011. Bradley Mitchell defends for the Conservatives, Christine Wright is the Labour candidate.
At the other end of Blackpool it is my sorry duty to have to take you to Norbreck. At the time of writing the Norbreck Castle Hotel was rated by Tripadvisor as 75th out of 81 hotels in Blackpool, and having had the dubious pleasure of staying there on several occasions (at someone else's expense, thank goodness) I am not going to disagree with that assessment except to say that the Britannia group were lucky to find six worse hotels in the resort. This dilapidated building on the seafront, a tram ride away from anywhere better, dominates the northern end of Blackpool with discoloured crenellations that bring to mind a set of bad teeth.
The Norbreck ward which shares that hotel's name was represented throughout this century by Maxine and Peter Callow, who were originally Conservatives. Peter Callow was the leader of Blackpool council from 2007 to 2011, overseeing a huge investment programme which saw the council buy the Blackpool Tower and the Winter Gardens, and upgrade the trams with modern vehicles. The Callows were deselected by the Blackpool Conservatives for the 2019 election, but were easily re-elected as independent candidates. Peter Callow died in November at the age of 81; he was in hospital for general observations, but is listed as another victim of COVID-19. The by-election to replace him is contested by new independent candidate Pam Haslam, a recent jackpot winner on the People's Postcode Lottery, while Julie Sloman will seek to recover the ward for the Conservatives. These two by-elections are the only council polls in Blackpool this year.
Finally, there are two by-elections to Lancaster council. One of these is for Bulk ward, the north-eastern ward of the city itself along the road towards Caton. This is one of the few safe wards for the Green Party, who are strong in Lancaster, and their defending candidate is Jack Lenox. Outside the urban area we come to Kellet ward, covering five rural parishes east of Carnforth; this was safely Conservative in 2015 but the Lib Dems came from nowhere to win in 2019 with a majority of six votes. Ross Hunter is the new Lib Dem candidate, Stuart Morris will look to recover the seat for the Conservatives.
Merseyside
Police and Crime Commissioner
The Merseyside PCC position is held by Labour's Jane Kennedy. In 2016 she won in the first round with 62% of the vote, the Conservatives being her nearest challengers on 18%.
Kennedy has retired this year. Labour have selected Liverpool councillor Emily Spurrell. The Conservative candidate is Bob Teesdale, who is from Southport. Also standing are Kristofor Brown for the Lib Dems and Malcolm Webster for Reform UK.
Liverpool City Region mayoral election
The Liverpool City Region mayoralty covers a larger area than just Merseyside, with the Halton borough also included; this covers the towns of Runcorn and Widnes up the Mersey estuary. The first mayoral election was held in May 2017 and was a convincing win for the outgoing Liverpool Walton MP Steve Rotheram, who defeated Tory candidate Tony Caldeira in the first round by 59% to 20%.
Rotheram is seeking re-election. The Conservatives have changed candidate to Jade Marsden, who was their parliamentary candidate for Bootle in 2015 and Sefton Central in 2017. Also standing are David Newman for the Lib Dems and Gary Cargill for the Green Party.
Local elections
There are elections this year for one-third of all the Merseyside boroughs plus the elected mayoralty of Liverpool.
The Liverpool mayoralty (not to be confused with the Liverpool City Region mayoralty, or the Lord Mayor of Liverpool) is likely to be the main point of interest in the big city. Labour's Joe Anderson performed poorly in 2016 relative to PCC Jane Kennedy; Anderson won in the first round with 53% compared to 20% for the Liberal Democrats and 11% for the Green Party. Recent well-publicised legal troubles, which prompted central government to send in the Commissioners, have forced him out of office. A controversial Labour selection produced Joanne Anderson; no relation of Big Joe, Joanne has appeared in this column before (Andrew's Previews 2019, page 321) when she won a by-election to the city council in Princes Park ward. She is not seeking re-election as a councillor this year, so the stakes are high for her. The Liberal Democrats have reselected their council group leader Richard Kemp, and the Green candidate is also their council group leader, Tom Crone. Completing the city mayoral ballot paper are Roger Bannister for the Trade Unionist and Socialist Coalition, Katie Burgess for the Conservatives, Steve Radford for the Liberal Party and independent candidate Stephen Yip.
Regardless of the mayoral result, the Commissioners will continue to work with a Labour-majority city council. Labour currently hold 73 out of 91 seats; a repeat of the 2019 results would see them lose one seat nett to the Greens.
Labour control of Knowsley is also secure, despite a poor performance in the 2019 election – if those results happen again the Green Party would gain two seats and an independent would gain one. A similar story played out in St Helens in 2019, where the Greens won two wards from nowhere and were close in a number of others; a repeat of those results would see Labour lose four seats. This will be the last thirds election to St Helens council, which is going over to whole-council elections on new ward boundaries from next year.
By contrast Labour are on the rise in Sefton, having finally broken through into the traditional Lib Dem stronghold of Southport. They have a good chance of four seat gains this year (two from the Lib Dems in Southport, two from independents in Maghull) to increase the Labour majority. Currently Labour hold 43 out of 66 seats here, which is a mark of how far this area has swung to the left: Sefton had never had a Labour majority before 2012.
The Labour majority over the water in Wirral council has disappeared since the 2019 election partially as a result of infighting following a left-wing takeover. There are three wards with split representation, and this year Labour are defending all of them: Birkenhead/Tranmere and Prenton voted Green in 2019, whereas Pensby and Thingwall voted Conservative.
Cheshire
Police and Crime Commissioner
David Keane gained the Cheshire PCC post for Labour from the Conservatives in 2016. On first preferences he had 40% of the vote to 38% for the Tories and 12% for UKIP; in the run-off Cheshire went Labour by the narrow margin of 51% to 49%, a majority of 2,949 votes.
This election will be a rematch between Labour's David Keane and the Conservative PCC he beat in 2016, John Dwyer. With UKIP not standing again, the other candidates are Jo Conchie for the Lib Dems and Nick Goulding for Reform UK.
Local elections
Following the 2019 local elections Labour, for the first time, have a monopoly on local government in Cheshire, running as a majority or as a minority all the local government districts which cover the county. And this is true whatever current or historical definition of Cheshire you use. Rather striking for the county that includes the richest areas of north-west England.
There are elections this year for all the councillors in Halton and Warrington (above), with new ward boundaries coming in for Halton. Both of these councils have strong Labour majorities at present (51 out of 56 seats in Halton, 45 out of 58 seats in Warrington), and Labour have a number of seats in Halton guaranteed due to insufficient opposition candidates. The Conservatives gained the Warrington South parliamentary seat in December 2019 but that wasn't based on local government strength: in 2016 the party won just two seats on Warrington council, in the Real Housewives territory of Lymm South, and one of those has since gone Lib Dem in a by-election.
There are no local elections of any sort this year in Cheshire East or in Cheshire West and Chester apart from three by-elections. In Cheshire West and Chester Labour currently have half of the seats, and that shouldn't change even with a by-election to defend in the town of Neston at the foot of the Wirral; Neston was safely Labour in 2019 and their candidate Keith Millar should be favoured to hold. The opposition Conservatives should also have little trouble defending a by-election in Frodsham, after their councillor Andrew Dawson left these shores to take up a job with the Falkland Islands government; Christopher Basey can be expected to defend that poll. In the unlikely event that Labour hold Neston and gain Frodsham, they will gain an overall majority on the council. Over in Cheshire East the ruling Labour group should have little trouble holding a by-election in Crewe West ward, where their candidate is Connor Naismith.
Greater Manchester
Mayor of Greater Manchester
The Greater Manchester mayoralty was created in 2017, subsuming the Police and Crime Commissioner post. Andy Burnham had a big win in the inaugural GM mayoral election, crushing the Tory candidate Sean Anstee by 63% to 23% in the first round. Unusually, a ward-level breakdown of the count was published, and the number of wards Anstee carried in the county (out of a possible 214) can be counted on the fingers of two hands.
Burnham is seeking re-election to (among other things) complete his bus franchising policy, and little which has happened since 2017 suggests that he will struggle to achieve re-election. The Tories have selected Laura Evans, a former Trafford councillor. Also standing are Simon Lepori for the Lib Dems, Melanie Horrocks for the Green Party, Stephen Morris for the English Democrats, independent candidates Marcus Farmer, Alec Marvel and David Sutcliffe, and Nick Buckley for Reform UK.
The Returning Officer has sent a booklet to all households with candidate statements, and if you haven't received the booklet you can read it here (link). And if you have…
GM mayoral election flyer amended by my 8year old:

Wigan: elephant
Bolton: cat
Bury: owl
Rochdale: rhino
Oldham: fox
Tameside: pig
Stockport: sideways man(?!)
Manchester: dog
Trafford: Harry Potter sorting hat
Salford: goldfish

What do other local authorities look like? pic.twitter.com/6BQgpmSMyL

— Jane Healey Brown (@HealeyBrown) April 22, 2021
Local elections
There are elections this year for the whole of Goldfish – sorry, Salford council on new ward boundaries, the Mayor of Salford, and one-third of the councillors in the other nine Greater Manchester boroughs.
The only Conservative-run metropolitan borough in the North of England is the Greatest Town in the Known Universe. Following a decisive rejection of Labour in the 2019 Bolton council election a minority Conservative administration was installed by a gaggle of localist groups, the Lib Dems and UKIP. After a confusing series of defections, the composition of Bolton council is now (deep breath) 18 Labour, 17 Conservatives (1 elected as LD, 1 elected as UKIP), 6 Lib Dems (1 elected as Labour), 4 Farnworth and Kearsley First, 3 for the Bolton Independent Group (all elected as Conservative), 2 Horwich and Blackrod First Independents, 2 UKIP, 1 "One Kearsley" councillor (who was elected for Farnworth and Kearsley First), 4 ex-Labour independents (including all three councillors for Crompton ward), 1 ex-Conservative independent, and 2 vacancies following the deaths of Conservative councillors Christine and Paul Wild. Christine was due for re-election this year in Westhoughton North and Chew Moor ward, while there will be a by-election in Astley Bridge ward to replace Paul. We finally see the back of the infamous former Labour council leader Cliff Morris, who is standing down in Halliwell ward.
Students of Bolton politics have been greatly helped over the last year by the Twitter account Bolton Elects, run by a group of students who have bravely commissioned monthly polling of the Greatest Town. Their final pre-election poll, released on 30 April 2021 poll (the most recent available at the time of writing) had topline figures of 34% for Labour, 26% for the Conservatives, 15% for the Lib Dems, 7% for the Greens and 14% for localist and other parties, which is a 3-point swing towards Labour since the 2019 elections but a 3-point swing to the Conservatives since 2016, the year these seats were last contested.
Of the 12 wards Labour won in 2016, Farnworth and Hulton wards have already gone to the localists and the Conservatives in by-elections, while Breightmet, Crompton and Westhoughton South wards have been lost to defection. Of those, only Crompton is likely to come back and that will probably be offset by further losses in the two Horwich wards (to Horwich and Blackrod First). Even with the Lib Dems having withdrawn support for the minority Conservative administration, it should continue after these elections. The localists are continuing to multiply: a new "Bolton for Change" slate (containing a number of ex-UKIP figures) is standing in a number of wards, and there are now two competing localist parties in Keawyed City (namely "Active for Westhoughton" and the "Westhoughton First Independents"). Of the two UKIP councillors who won in 2016, Mark Cunningham in Kearsley is seeking re-election as a Conservative (although he'll probably lose to Farnworth and Kearsley First), while Rees Gibbon in Little Lever and Darcy Lever is seeking re-election in what's clearly going to be a close contest with Labour and the Conservatives, judging from the deluge of leaflets coming through this column's letterbox. One other thing: the Bolton Elects team have published ward subsamples, which with sample sizes of just over 100 aren't much better than noise but are consistently showing the Green Party in contention to win their first ever Bolton council seat in Hulton ward, the centre of a championship golf course planning controversy. Their final poll also has Bolton for Change running Labour very close in Tonge with the Haulgh ward. Watch this space.
The localist surge we have seen in Bolton could also spill over and cost Labour control of neighbouring Bury this year. This is a council to watch, as Bury is a small but perfectly formed metropolitan district. You can find everything here from Red Wall territory (Radcliffe) to trendy suburbs (Prestwich) to thriving towns (Bury) to well-off commuter areas (Tottington, Ramsbottom) to deprived estates (Dickie Bird). All human life is here.
Bury currently has 27 Labour councillors plus one vacancy, 14 Conservatives plus one vacancy, 4 Lib Dems, 1 independent elected as a Conservative and 3 independents elected on a localism ticket in the forgotten town of Radcliffe, giving a Labour majority of 3. In 2019 Labour lost Radcliffe North ward to the Conservatives, Radcliffe East ward to the localists and St Mary's ward in Prestwich to the Lib Dems; the localists subsequently took a by-election off Labour in working-class Radcliffe West. Labour are defending all those wards this year. There are several other marginal Labour wards which the Tories will have their eyes on, such as Elton and Unsworth in western and southern Bury; and of course this is a borough with two extremely marginal Conservative parliamentary seats. The Bury Conservatives have made the headlines with their nomination of Jihyun Park, the first North Korean defector to stand for election in the UK, on their slate for the Moorside ward of northern Bury; there are two seats up for election there this year following the resignation of a Labour councillor, but the Conservatives haven't won Moorside since 2006 and a gain this time would be a tall order.
On the positive side for Labour, they have a good chance of offsetting any losses in the previous paragraph by gaining marginal Conservative seats in Ramsbottom and Prestwich's Sedgley ward. Sedgley ward is 34% Jewish, the sixth-largest Jewish population for any ward in England and Wales, and was gained by the Conservatives in 2016; this was seen as a shock result at the time, and subsequent comfortable Labour holds in 2018 and 2019 suggest it might have been a fluke. The Tory defence here will be not be helped by the fact that their new candidate has put out a leaflet which managed to misspell "Prestwich" in three different ways. A Labour gain of Sedgley ward will likely be spun as an indication that the party is sorting out its anti-Semitism problem, but remember the 2018 and 2019 results before you accept that line.
The other major battle in Greater Manchester would appear to be for Stockport council. This is currently tied at 26 seats each for Labour and the Lib Dems, with 8 Conservatives and three Heald Green ratepayers holding the balance of power. In 2019 the Lib Dems gained five seats from the Conservatives and they have a chance of a further gain this year in Marple South and High Lane ward; that would probably make them the largest party on the council and could result in a change of control.
The other seven Greater Manchester boroughs have impregnable Labour majorities, and that includes Salford where all 60 councillors are up for re-election on new ward boundaries this year. The new lines have created a completely new ward in the inner city, reflecting large housing developments under construction in the Quays area; the new Quays ward is hugely undersized at the moment in population terms but this should resolve itself over the next few years.
Salford has an elected mayor of its own, currently Labour's Paul Dennett who won the 2016 mayoral election in the first round: he polled 51% against 26% for the Conservatives and 16% for UKIP. Dennett is standing for a second term. The Conservative candidate is Arnie Saunders, who has appeared in this column before: a rabbi from Broughton Park, he was the Tory candidate who won the Kersal by-election in 2017 (Andrew's Previews 2017, page 66), and has subsequently turned Kersal – the number 1 Jewish ward in England and Wales – into a Conservative stronghold. Saunders was the Conservative parliamentary candidate for Worsley and Eccles South in 2019. UKIP haven't returned, so completing the Salford mayoral ballot paper are Wendy Olsen for the Green Party, independent candidates Stuart Cremins and Stephen Ord, and Jake Overend for the Lib Dems.
West Yorkshire
Mayor of West Yorkshire
The latest piece in the devolution jigsaw will slot into place in these elections with the first poll for the West Yorkshire mayoralty. This position covers the five metropolitan boroughs of Bradford, Calderdale, Kirklees, Leeds and Wakefield, and will replace the West Yorkshire police and crime commissionership.
The outgoing PCC is Labour's Mark Burns-Williamson, who has overseen the county's police force almost continuously since 2003 when became chairman of the former West Yorkshire police authority. In the 2016 election he came very close to winning in the first round, polling just under 50% against 23% for the Conservatives and 14% for UKIP, and increased his lead to 66-34 in the runoff.
Burns-Williamson is not standing again. For the new mayoralty Labour have selected Tracey Brabin, a former Coronation Street actress who has been MP for Batley and Spen since winning the 2016 by-election after Jo Cox' murder (Andrew's Previews 2016, page 251). The Conservative candidate is Matt Robinson, a Leeds city councillor. There's no UKIP candidate this time, so completing the ballot paper are Stewart Golton for the Lib Dems, Thérèse Hirst for the English Democrats, Waj Ali for Reform UK, Bob Buxton for the Yorkshire Party and Andrew Cooper for the Green Party.
Local elections
There are elections this year for one-third of the councillors in all five West Yorkshire boroughs. All of these had Labour majorities following the party's gain of Calderdale in May 2019; that council's Labour group (currently 28 councillors out of 51) has the chance to substantially increase its majority this year, as the Conservatives are defending 6 wards which voted for Labour, Lib Dem or an independent candidate in 2019.
The Labour majority in Kirklees district, however, disappeared in November 2020 after three councillors walked out of the party and went independent. The party also faces a relatively difficult ward map – a repeat of the 2019 results would see Labour make a net loss of one seat. Two of the Conservative gains in West Yorkshire at the December 2019 election are within Kirklees district – Colne Valley and Dewsbury – but the party has some catching up to do at the local level. Also watch out for the Heavy Woollen District Independents, who won the closely-knit ward of Dewsbury East in 2019.
The other three West Yorkshire boroughs have comfortable Labour majorities, particularly so in Wakefield where the party holds three-quarters of the seats. The Conservatives made no impression at all here in May 2019 – they held the four seats they were defending but fell short in their target ward of Wrenthorpe and weren't particularly close anywhere else. Despite this, the party broke through to gain the Wakefield parliamentary constituency in December 2019. The council's ward map is better for the Conservatives this year, as they will have the chance to gain the two Ossett wards which Labour are now defending. Labour are also in trouble in Knottingley ward, which has suddenly turned into a Lib Dem hotspot. Regrettably, Wakefield has an entry for the Councillors Behaving Badly file: Alex Kear, elected two years ago as an independent councillor for Airedale and Ferry Fryston ward, is now serving a four-year prison sentence for paedophile offences, and there will be a replacement for him elected at this election.
North Yorkshire
Police and Crime Commissioner
The North Yorkshire PCC position is Conservative-held. The incumbent is Julia Mulligan, who in the 2016 election polled 40% against 26% for Labour and 23% for an independent candidate, beating Labour 59-41 in the runoff.
Mulligan is not standing again and the Conservatives have selected Philip Allott, a former leader of the Conservative group on Harrogate council and their parliamentary candidate for Halifax in 2015. Away from politics he runs a PR agency. The Labour candidate is Alison Hume, an award-winning TV screenwriter who was on the Labour list for Yorkshire and the Humber in the 2019 European Parliament elections. Also standing are independent candidate Keith Tordoff and the Lib Dems' James Barker.
Local elections
The scheduled elections this year for the whole of North Yorkshire county council and one-third of Craven council have been postponed to 2022, to allow time for a consultation on local government reorganisation. As a result, only by-elections are taking place to the county's local councils. Two of these are for the county council. The Liberal Democrats defend their seat in the two-member county division of Harrogate Bilton and Nidd Gorge, covering the northern end of Harrogate town; the other seat in this division was Lib Dem in 2005 and 2009, UKIP in 2013 and Conservative in 2017, so we can expect an interesting contest here. Andrew Kempston-Parkes is the defending Liberal Democrat candidate, Matt Scott will seek to gain for the Conservatives.
In the Yorkshire Dales National Park the Conservatives defend two by-elections in beautiful Ribblesdale, following the death of Richard Welch who sat on both the county council and Craven council. His county seat of Ribblesdale runs from the source of the Ribble all the way to the Lancashire border, with the town of Settle as the major population centre. Craven's Penyghent ward covers Ribblesdale from Stainforth northwards, together with the village of Giggleswick on the main road from Skipton to Kendal. Welch had large majorities in both wards, and the succeeding Tory candidates David Staveley (for the county seat) and Robert Ogden (for the district seat) will be favoured.
Staying in the Yorkshire Dales National Park, there is a second by-election to Craven council for the Barden Fell ward. This is based on Wharfedale around the village of Bolton Abbey, taking in the ruined Bolton Priory, and also extends west to cover the quarrying village of Rylstone. Barden Fell had been a Conservative-held ward until 2016, when it was gained by independent candidate David Pighills. Pighills was subsequently thrown off the council under the six-month non-attendance rule, but he is seeking re-election in the by-election caused by his own disqualification. That by-election is a straight fight with the Tories' John Dawson.
Our final North Yorkshire by-election couldn't be in a more different landscape. The Camblesforth and Carlton ward of Selby district takes in nine parishes on the flat agricultural land between the Aire and the Ouse before their confluence just north of Goole. The ward is dominated in every way by the massive Drax power station, which supplies 6 per cent of Britain's electricity; Drax was once the third-largest coal-fired power station in Europe, but its conversion to biomass fuel is well under way. Camblesforth and Carlton ward voted Conservative in 2015, but one of its councillors, Mike Jordan, subsequently defected to the Yorkshire Party and was re-elected in 2019 under the colours of the White Rose. Jordan is now back in the Tory fold, and following the resignation of his running-mate Paul Welburn the Yorkshire Party have not put up a candidate to defend this by-election. Camblesforth and Carlton can be expected to revert to the Conservatives, whose candidate is Charles Richardson.
Humberside
Police and Crime Commissioner
Labour gained the Humberside PCC position at the 2016 election, defeating Tory incumbent Matthew Grove 60-40 in the runoff; the first round had given 40% to Labour, 27% to the Conservatives and 18% to UKIP. Grove had won narrowly in 2012, defeating the UKIP MEP Godfrey Bloom and former Deputy Prime Minister John Prescott.
The Labour incumbent PCC is former police chief superintendent Keith Hunter, who is seeking re-election. The Conservatives had to change candidate at the last minute after Craig Ulliott, who was originally selected over a year ago, stood down just nine days before the nominations deadline; Hunter has since passed a file to Humberside Police with electoral fraud allegations against Ulliott. Jonathan Evison, the present Mayor of North Lincolnshire, is picking up the pieces of the Conservative campaign. With no UKIP candidate this time Bob Morgan, of the Liberal Democrats, completes the ballot paper.
Local elections
Two of the four Humberside boroughs are holding elections this year. North East Lincolnshire, based on Grimsby, Cleethorpes and surrounding villages, has swung a mile to the right in recent years at both parliamentary and council level; the Tories won an overall majority here in 2019, and a repeat of those results would see them gain four more seats.
Things are rather different over the Humber estuary in the big city of Kingston upon Hull. This has a rather narrow Labour majority of 31/57 seats, with a significant Liberal Democrat opposition of 24. The city got new ward boundaries in 2018, and a repeat of the 2019 results would result in no net changes.
There are no local elections this year in North Lincolnshire or in the East Riding except for by-elections. The amazing story of the Broughton and Appleby ward of North Lincolnshire is too long to tell here, but I have related it before in an extraordinary edition of Andrew's Previews in April 2020 (link), because I researched for it for a March 2020 double by-election that never happened. We are now having another go at filling the seats vacated by the late Ivan Glover and the new Scunthorpe MP Holly Mumby-Croft; Janet Lee and Carol Ross will defend this ward which is now safely Conservative. Also postponed from March 2020 is a by-election in the Ashby ward of eastern Scunthorpe, which is safe for the defending Labour candidate Christopher Skinner. Regrettably, the pandemic has added a fourth by-election to the list in North Lincolnshire: Derek Longcake, Conservative councillor for the Bottesford ward of southern Scunthorpe, died in the first wave of COVID-19. His widow Janet Longcake is the Conservative candidate for the resulting by-election, and she will start as favourite.
COVID-19 has also taken from us Mike Bryan, a Conservative member of the East Riding council. His ward was South West Holderness, based on the town of Hedon just east of Hull; this ward returned Lib Dem councillors until 2007 and an independent until 2011, but is now safe Conservative. David Winter is their defending candidate. There is also a by-election in the neighbouring ward of South East Holderness, a large rural area based on Withernsea and running to the now-island of Spurn. This ward has had a full slate of Conservatives at every election this century, but Labour came close in by-elections in 2012 and 2016 (Andrew's Previews 2016, page 149) and UKIP were a strong second in 2015. Despite this history, the Conservative candidate Claire Holmes should be favoured.
South Yorkshire
Police and Crime Commissioner
The South Yorkshire police and crime commissionership is held by Labour's Alan Billings, an academic and priest who has served since winning a by-election in 2014. He was re-elected in the first round in 2016, polling 52% against 20% for UKIP and 11% for the Conservatives.
Although he is now well into his seventies, Billings is seeking a third term. He won't face a UKIP candidate this time. The Conservatives have selected former senior police officer David Chinchen, and Joe Otten completes the ballot paper for the Liberal Democrats.
Local elections
There are elections this year for the whole of Rotherham council on new ward boundaries, the whole of Doncaster council and one-third of Barnsley and Sheffield councils.
Rotherham council has had a troubled recent history, being taken over by Commissioners in 2014 following a huge child sexual exploitation scandal. In that year's local elections the UK Independence Party won 10 seats on Rotherham council, which they increased to 14 at a whole-council election in 2016: Labour won 48 seats that year, and the remaining seat went to an independent candidate in Anston and Woodsetts ward. This year's election will be on new ward boundaries. The Rother Valley parliamentary seat, which the Conservatives gained in December 2019, is one of several constituencies with a Tory MP but no Tory local councillors; the party will have a chance to do something about that now. Rotherham UKIP have since rebadged as the "Rotherham Democratic Party" and are not giving up their seats on the council without a fight.
Doncaster went over to the elected mayoral system some years ago. The current mayor is Ros Jones of the Labour party, who narrowly defeated the English Democrats mayor Peter Davies in 2013; Jones had a much easier time in the 2017 mayoral election, winning in the first round with 51% of the vote against 21% for the Conservatives and 12% for UKIP. She is backed up by a large Labour majority on Doncaster council: the simultaneous 2017 council election returned 43 Labour councillors, 7 Conservatives, 3 localists from Mexborough and two independents.
Jones is seeking re-election for a third term as Mayor. The Conservatives have selected James Hart, a businessman and former leader of the Conservative group on the council, who is seeking to return to public office after standing down in 2017. There's no UKIP candidate this time; the other candidates are independents Joan Briggs and Frank Calladine, Andy Budden for the Yorkshire Party, Warren Draper for the Greens and Surjit Singh Duhre for Reform UK.
Despite some extremely wacky results in 2019, including two seat gains for the Democrats and Veterans Party (the "gay donkey" UKIP splinter group), the Labour majority in Barnsley looks completely safe.
The big city of Sheffield should, however, be hotly contested. Following a row over tree-felling which led to major losses in 2019, the ruling Labour group is currently on 45 councillors plus four vacant seats, with 43 being a majority. A repeat of the 2019 results would see Labour lose seven seats nett to the Lib Dems and Greens, putting that majority in danger. Sheffield also has a governance referendum, on whether the council should abolish the leader and cabinet system and move to the committee system of governance.
Derbyshire
Police and Crime Commissioner
The Derbyshire PCC election in 2016 was very close. In the first round Labour's Hardyal Singh Dhindsa led with just 37% of the vote, against 35% for the Conservatives' Richard Bright and 17% for UKIP. Bright picked up most of the transfers in the runoff, but it wasn't enough as Dhindsa prevailed by 50.5% to 49.5%, a majority of 1,613 votes out of over 150,000.
Dhindsa is seeking re-election for Labour. The Conservatives have selected Angelique Foster, a Derbyshire county councillor and leader of Dronfield town council. UKIP haven't returned, so completing the Derbyshire PCC ballot paper are Stan Heptinstall for the Lib Dems and Tim Prosser for UKIP.
Local elections
There are elections this year for the whole of Derbyshire county council and for one-third of Amber Valley and Derby councils.
Amber Valley is a very swingy council based on the towns of Belper and Heanor to the north of Derby. This was a Labour gain from the Conservatives in 2019, but the party will have a difficult time defending their majority; this year all the traditionally Labour-voting wards in the east of the district are due to poll. and the party is defending 11 of the 15 wards up for election. If the Conservatives are having a good night, they have a realistic chance of making the gains they need for outright control.
The Conservatives do currently run Derby city council as a minority. The city has become very politically balanced, with currently 19 Conservative councillors, 15 Labour, 8 Lib Dems, a five-strong Reform Derby group (who were elected on the UKIP ticket, and are standing in these elections with the joint nomination of Reform Derby and Reform UK), and three independents. A repeat of the 2019 results would see the Conservatives lose 1 seat and Labour lose 2. Derby is one of the few councils which will declare its ward results overnight, so expect some desperate spinning of its results on the Friday morning.
Derby city is not covered by Derbyshire county council, which has swung wildly between the two main parties at the last three elections: it was a Tory gain in 2009, a Labour gain in 2013 and a Tory gain again in 2017. In seat terms the Conservative win four years ago looks pretty large – 37 seats against 24 Labour and 3 Lib Dems – but in vote terms it won't take that much of a swing for many of those seats to change hands. For example, in the High Peak district the Conservatives hold three county seats in Buxton and Glossop on very small majorities; and the party hasn't performed particularly well there since, only narrowly gaining the High Peak constituency in December 2019 and resoundingly losing a by-election in Whaley Bridge to the former Labour MP Ruth George two months later. The Tory candidate to take Whaley Bridge back in this election certainly has name recognition – she is the former Conservative MP Edwina Currie, giving us a rare former MP versus former MP contest in a council election. Labour may have lost Dennis Skinner's Bolsover seat in December 2019, but given the majorities involved it will take another special Tory performance for them to gain any county divisions in that corner of Derbyshire.
This is borne out by the 2019 elections to Bolsover council, as while Labour did lose their majority there in 2019 it was mostly independent candidates who benefited from that. Labour have a crucial by-election to defend here in the Bolsover North and Shuttlewood ward, where they were opposed in 2019 only by a candidate from the left-wing Socialist Alternative; Donna Hales defends the seat for Labour, while the Socialist Alternative's Elaine Evans tries again with the nomination of the Trade Unionist and Socialist Coalition. The village of Pinxton voted strongly for independent candidate James Watson in 2019, with Labour winning the ward's other seat; Watson's death has resulted in a free-for-all by-election, with Kevin Rose looking to succeed him as an independent and Labour nominating Stan Fox. If Labour hold Bolsover North and Shuttlewood and gain Pinxton, they will regain their overall majority on the council.
The neighbouring district of North East Derbyshire now has a Conservative majority, as the memory of mining fades and towns like Eckington and Killamarsh continue their transition from industrial and pit settlements into dormitory towns for Sheffield just to the north. The two Killamarsh wards now have a full slate of Conservative councillors, although in 2019 they did win the second seat in Killamarsh East by a majority of just one vote over Labour. Both Killamarsh wards have by-elections following the resignations of Conservative councillors Kevin and Patricia Bone; in East ward David Drabble defends against Labour candidate John Windle, while in West ward the Conservative and Labour candidates are Alex Platts and Stuart Mullins respectively. The neighbouring ward of Eckington South and Renishaw was Labour in 2019, but is having a by-election after Labour councillor Clive Hunt was disqualified under the six-month non-attendance rule; I'm not sure of the circumstances behind this, but Hunt is seeking re-election while the Conservatives have selected Philip Wheelhouse.
The Conservatives also have a majority on Erewash council, where Labour are defending two by-elections. Hallam Fields, the southern ward of Ilkeston, was very close in 2015 and 2019 between Labour and the Conservatives; Labour won both seats in 2019, gaining one from the Conservatives, and their defending candidate is Jo Ward while the Conservatives have selected Jon Wright. Accordingly, the Lib Dems' Angela Togni is in the unusual position for a T of first on the ballot paper. Labour have a larger majority in the Nottingham Road ward of Long Eaton, based on the Trent railway junction, where their defending candidate is Adam Thompson.
"Some might say we will find a brighter day", according to the song by Oasis. The cover photograph for their single Some Might Say was taken at Cromford railway station in the Derbyshire Dales district, which is part of the Masson ward of Derbyshire Dales district. As well as Cromford, Masson ward also takes in the Little Switzerland of Matlock Bath, a spa village which is a huge tourist trap but worth a visit nonetheless. This beautiful scenery is the backdrop to one of the crucibles of the Industrial Revolution: it was at Cromford in 1771 that Richard Arkwright set up the world's first water-powered textile mill, using his revolutionary spinning frame. Arkwright's mill still stands today and is a UNESCO World Heritage Site.
Arkwright's legacy to Cromford and the neighbouring town of Wirksworth is an engineering history and a large Labour vote. Masson ward consistently turns in close results between Labour and the Conservatives, and has split its two seats between Labour and the Tories since 2011. Labour are defending the Masson by-election on 6th May; their candidate is Nicholas Whitehead, while the Conservatives have selected Dermot Murphy. Wirksworth is the safest Labour ward within the Derbyshire Dales district, and their candidate Dawn Greatorex should be favoured to hold the by-election there.
Earlier in this section I mentioned Edwina Currie, who was the Conservative MP for South Derbyshire from 1983 to 1997. This is the sort of area which has swung strongly to the Conservatives in recent years; the December 2019 general election gave the Conservative candidate Heather Wheeler a majority of over 19,000 votes, and the May 2019 re-elected the Tory administration on South Derbyshire council (which has the same boundaries as the parliamentary seat) with a 22-14 majority over Labour. All seemed set fair; but in December 2020 the ruling Conservative group on the council suffered a huge split, and Labour have taken over as a minority administration.
The four South Derbyshire council by-elections on 6th May – and the Conservatives are defending all four of them – will be the electorate's first chance to make their views clear on this takeover. The Tories will be helped by the lack of any candidates from the dissident group. They are safe in Hilton ward (covering eight parishes on the main road towards Uttoxeter), where two of the three seats are up for election and are defended by Gillian Lemmon and Peter Smith. Seales ward, the southernmost point of Derbyshire, covers six parishes including the village of Coton in the Elms; this is recognised as the farthest point in the UK from the sea, being 70 miles from the Wash, the Dee Estuary and the Severn Estuary. Seales ward is also safe Conservative, with Simon Ackroyd defending. Things are politically very different in the Church Gresley ward of Swadlincote, which split its three seats between two Labour candidates and one Conservative in both 2015 and 2019; the Tories' Roger Redfern will defend this marginal against Labour's Sue Taylor. If Labour can gain the Church Gresley by-election, they will remain as the largest party on South Derbyshire council unless the Conservatives and ex-Conservatives can settle their differences.
Nottinghamshire
Police and Crime Commissioner
The Nottinghamshire PCC since 2012 has been Paddy Tipping, the former Labour MP for the Sherwood constituency who served for a time as Deputy Leader of the Commons during the last Labour Government. Tipping was re-elected quite easily in 2016: in the first round he led with 47% against 28% for the Conservatives and 12% for UKIP, and he increased his lead to 62-38 in the runoff.
Tipping is seeking a third term of office. He is up against Conservative candidate Caroline Henry, a businesswoman. UKIP have not stood again, so completing the ballot paper is David Watts for the Lib Dems.
Local elections
There are elections this year for Nottinghamshire county council only. There are no local elections this year in the city of Nottingham.
The Conservatives have had spectacular success in Nottinghamshire at parliamentary level in recent years. They now hold all eight constituencies in the area covered by the county council, having taken Ashfield and Bassetlaw in 2019 to add to the gain of Mansfield in 2017. The task now for the party is to make this dominance stick at county council level, as the Tories do not have a majority at the county hall in West Bridgford and are governing in coalition with the Mansfield Independent Forum. That group along with the Zadroznyite Ashfield Independents will form a large independent bloc on the new county council, so for the gains they need for a majority the Tories will likely have to look elsewhere: perhaps in the northern Nottingham suburbs of Arnold and Carlton, where there are a number of marginal Labour divisions. The Tories must have carried a number of divisions in Worksop in December 2019 given their huge majority in Bassetlaw, but as in neighbouring Bolsover the Labour county councillors there are sitting on very large majorities from May 2017.
In fact the May 2019 local elections in Bassetlaw were pretty poor for the Conservatives, who lost all but one of their seats within the Bassetlaw constituency. They have a good chance to get two of those seats back on 6th May. Sutton ward, covering a number of villages to the west and north of Retford, was gained from the Conservatives in 2019 by independent candidate Rob Boeuf; no independent candidate has come forward to succeed Boeuf, and the seat should revert to the Conservatives who have selected Denise Depledge. Immediately to the north of Sutton ward is Ranskill ward, which was a very surprising gain in 2019 for Labour partly thanks to the outgoing Tory councillor Michael Gray seeking re-election as an independent and splitting the right-wing vote. Labour haven't found a candidate to replace Nicholls, so the Ranskill by-election is likely to be gained by either the Tories' Gerald Bowers or by Michael Gray, who is standing again. Within Bassetlaw district but part of the Newark constituency is the Tuxford and Trent ward, which takes in the former power station site at High Marnham and one of Network Rail's test tracks for new rail vehicles; this was close in 2019 between the Conservative slate and an independent, but with the independent not returning the Tories' Lewis Stanniland should be favoured.
The Conservatives defend two other Nottinghamshire by-elections caused by newly-elected MPs vacating their district council seats. Brendan Clarke-Smith, the new Bassetlaw MP, was a Newark and Sherwood councillor for Boughton ward, located a few miles west of Tuxford and on the border of his constituency. This is part of the Nottinghamshire coalfield, which was operating round here until just a few years ago; Boughton ward was very close between the Tories and Labour in both 2015 and 2019, with Clarke-Smith gaining it in the latter year. Another close contest between defending Conservative candidate Tim Wildgust and Labour's Derek Batey can be expected. The Tories don't have many council seats in Mansfield, but one of them was held by Lee Anderson who is now the MP for Ashfield; Anderson represented the Oakham ward on the southern edge of Mansfield, which he gained from the Mansfield Independent Forum in 2019. The Tories have selected Robert Ellman to hold the Oakham by-election, while the result of the Forum's candidate Kevin Brown may be an early pointer as to whether they can get the Mansfield mayoralty back from Labour in 2023.
Lee Anderson had got elected to Parliament the hard way, as he had to defeat Jason Zadrozny who bestrides Ashfield politics like a colossus. Zadrozny is the leader of Ashfield council at the head of his own party, the Ashfield Independents, and most of the candidates on his slate were elected with enormous shares of the vote in 2019. This column has seen nothing like it since the Lib Dem takeover of Kendal nearly twenty years ago. The Ashfield Independents are defending two by-elections: in Skegby ward (the north-eastern ward of Sutton-in-Ashfield), after the council chairman Anthony Brewer died of COVID; and in Annesley and Kirkby Woodhouse ward next to the M1 motorway. Both of these wards were over 70% Zadroznyite in 2019, so it will take a lot for the defending candidates Jamie Bell (Annesley and Kirkby Woodhouse) and Will Bostock (Skegby) to lose these.
Things are more politically normal in the final three Nottinghamshire by-elections. Labour have two safe wards to defend in the Broxtowe district, covering a number of towns to the west of Nottingham; in Stapleford Sue Paterson defends the South West ward, while in Beeston Shaun Dannheimer is the party's candidate to hold Rylands ward. Over the Trent we have a safe Conservative defence to Rushcliffe council: Matt Barney should be favoured to hold the ward based on the village of Sutton Bonington.
Lincolnshire
Police and Crime Commissioner
The 2016 Lincolnshire PCC election turned in a fragmented first-round result after the independent incumbent retired. In a field of four candidates the Conservatives' Marc Jones led with 35% against 26% for UKIP candidate Victoria Ayling, 23% for Labour and 17% for the Lincolnshire Independents, a long-standing group of independent county councillors. Jones and Ayling went into the runoff, which Jones won 56-44 to gain the position for the Conservatives.
Marc Jones is seeking re-election for a second term, and this time he won't have to face a UKIP candidate. Labour have selected Lincoln city councillor Rosanne Kirk. The Lincolnshire Independents have returned with their candidate David Williams, a former army officer who chairs the Lincolnshire Police Independent Advisory Group. Also standing are Ross Pepper for the Liberal Democrats and Peter Escreet for Reform UK.
Local elections
There are elections this year for the whole of Lincolnshire county council and for one-third of Lincoln council. These shouldn't see much excitement. Lincoln city council (above) is the only Labour-controlled district in Lincolnshire; their majority over the Conservatives is 24-9, and a repeat of the 2019 results would see three Tory seats flip to Labour. Lincolnshire county council (below) returned a large Tory majority in the 2017 election, after a sizeable UKIP caucus in the 2013-17 term fell apart; unless something similarly seismic happens the Conservatives are in no danger at the county hall this time.
The Tories are defending four of the five by-elections to Lincolnshire's district councils. The odd one out is the Bassingham and Brant Broughton ward of North Kesteven district, which covers nine rural parishes east of Newark and south of Lincoln; this is normally a Tory ward but it was taken over by the Lincolnshire Independents in 2019, and their defending candidate Penelope Bauer will seek to defend against the Tories' Russell Eckert. In South Kesteven district the Tories defend Glen ward, which covers a number of villages to the west of Bourne including Little Bytham on the East Coast main line; this is very strongly Conservative and their candidate Penny Robins is opposed only by Labour.
The one genuinely urban Lincolnshire by-election on 6th May has given this column an awful lot of grief in trying to sort out what is going on. Skirbeck ward covers the docks of Boston, straddling both sides of the River Witham. In 2015, the first contest on the present boundaries, it elected one councillor each for UKIP, the Conservatives and Labour; in 2019 UKIP gave up their seat without a fight and Labour were defeated, the three councillors elected being Alistair Arundell for the Conservatives and independent candidates Anne Dorrian and Colin Woodcock. Arundell resigned shortly afterwards, and a by-election was held alongside the December 2019 general election (Andrew's Previews 2019, page 398) which was convincingly held by new Conservative candidate Martin Howard. Howard announced in July 2020 that he would step down to allow a by-election to be held in May 2021. Independent councillor Colin Woodcock then handed in his resignation in October 2020, prompting this column to put a double by-election on my vacancy list. As it turns out, Martin Howard never followed through on his resignation announcement and is still a Boston councillor, so this Skirbeck by-election is for Woodcock's seat only. Two independent candidates, Dale Broughton and Christopher Cardwell, are seeking to succeed Woodcock, but if the December 2019 by-election is any guide the Tories' Katie Chalmers should start as favourite here.
Things have got even more complicated on the beaches of Lincolnshire's east coast. There is a localist party here, the Skegness Urban District Society, which is seeking self-governance for Skeggy and won six seats in the 2019 East Lindsey council elections. The SUDS are now looking to clean up at Lincolnshire county council level, and they have nominated seven candidates – rather ambitious given that Skegness only has two county council seats and the other five candidates are standing for divisions outside the town. Two of these candidates are Steve Walmsley, who was nominated for Ingoldmells Rural county division; and Danny Brookes, who was nominated for both Ingoldmells Rural and Mablethorpe divisions. The deputy returning officer will have pointed out to Brookes that he could only stand for one of those, so he withdrew – from Mablethorpe, leaving SUDS with two candidates for one seat in Ingoldmells Rural.
The plot thickens when you consider that Ingoldmells Rural includes the East Lindsey ward of Chapel St Leonards. One of the oldest wards in England by population (in 2011 71% of the population were aged 45 or over – the place must be almost fully vaccinated by now), the seaside resort of Chapel St Leonards can be found about five miles north of Skegness. This is within range for the Skegness Urban District Society, and they have nominated a candidate for the East Lindsey council by-election here – but not Danny Brookes or Steve Walmsley. Instead, the SUDS candidate for the Chapel St Leonards by-election is Ady Findley, while Steve Walmsley is contesting the by-election as an independent. Confused? You will be. The Conservatives are defending the by-election with Graham Williams as their candidate, while Labour – who won a by-election here in 2013 and weren't far off holding their seat in 2015 – have selected Isaac Bailey to complete the ballot paper.
Thankfully our final by-election within Lincolnshire is strange only in the sense that the voters of Kelsey Wold ward will be electing a successor to the late Tory district and county councillor Lewis Strange. Strange had won his final term in 2019 in this ward of West Lindsey, based on the villages of North and South Kelsey between Brigg and Market Rasen, comfortably enough that new Conservative candidate Peter Morris should have few problems in holding the by-election.
Northamptonshire
Police and Crime Commissioner
Northants' police and crime commissioner election in 2016 was a three-way fight. The first round was relatively close with 41% for the new Conservative candidate Stephen Mold, 36% for Labour and 24% for UKIP; UKIP's transfers broke for the Conservatives giving them a 54-46 win in the final reckoning.
Stephen Mold is seeking a second term. Labour have selected Claire Pavitt, who was their parliamentary candidate for Kettering in December 2019. UKIP have not returned, so completing the ballot paper are Ana Gunn for the Liberal Democrats and Mark Hearn for Reform UK.
Local elections
Northamptonshire's local government has been reorganised this year following the financial failure of Northamptonshire county council. 2021 sees the inaugural elections for the two new councils of North Northamptonshire and West Northamptonshire.
West Northamptonshire is the larger of the two with around 307,000 electors on the roll. The county town of Northampton accounts for slightly under half of the electorate, and should be comfortably outvoted by the former rural districts of Daventry and South Northamptonshire which are generally true blue. Similar considerations apply in North Northamptonshire, which succeeds the former districts of Corby, East Northamptonshire, Kettering and Wellingborough. Corby is a strongly Labour-voting town, and the party can also perform decently in Kettering, but politically these will be red islands in a large blue lake. Mind, we only have parliamentary election data from Northamptonshire in recent years, because the May 2019 elections for all the districts here were cancelled in advance of the reorganisation.
Leicestershire
Police and Crime Commissioner
Leicestershire's police and crime commissionership was gained by Labour in the 2016 election. Lord Bach, who served as a junior minister for much of the Blair and Brown years in the defence and environment departments and the whip's office, led in the first round with 45% against 31% for the Conservatives and 13% for the Liberal Democrats; in the final reckoning he beat the Conservatives 57-43.
Bach is not standing again. The Labour candidate here is local government veteran Ross Willmott, who was first elected to Leicester city council in 1983. Willmott was leader of that council from 1999 until 2010, when he resigned the leadership to unsuccessfully contest North West Leicestershire in that year's general election. The Tories have selected Rupert Matthews, a former Kingston upon Thames councillor and prolific author on paranormal subjects; Matthews was a Conservative MEP for the East Midlands from 2017 to 2019. Completing the ballot paper is the Lib Dems' James Moore, a former Hinckley and Bosworth councillor who currently teaches history and politics at Leicester University. One thing to look out for in the Leicestershire PCC count is differential turnout, because there are no scheduled local elections in the Labour stronghold of Leicester to boost turnout for the PCC contest.
Local elections
There are, however, elections this year for Leicestershire county council. Unlike the PCC position this has a large Conservative majority thanks to the absence of Labour-voting Leicester city, which has unitary status; the Lib Dems form the main opposition on the county council thanks to their strength in Oadby, Wigston and Hinckley. The 2017 election returned 36 Conservatives, 13 Lib Dems and 6 Labour councillors. Not much is likely to change here.
As stated, there are no local elections this year in the city of Leicester apart from a by-election in the North Evington ward. At one point named as the UK's COVID hotspot, North Evington is a majority-Asian area about a mile east of Leicester city centre, which returned very high Labour votes in 2015 and 2019. Nine candidates have come forward for the by-election, but it will probably take a lot for any of them to defeat Labour's Vandevi Pandya.
There are four local by-elections within the Leicestershire county council area, and we should start our discussion with the Worthington and Breedon ward of North West Leicestershire which covers a number of villages between East Midlands Airport and Ashby de la Zouch. The ward's Conservative councillor David Stevenson, who had sat on North West Leicestershire council for all but one term since the council's first election in 1973, passed away in early November of 2019. No move was made by the local Conservatives to call a by-election over the winter, and the subsequent suspension of by-elections means that Worthington and Breedon's residents have now been without a councillor for almost eighteen months. Even given the exceptional circumstances of the last year and a bit, this should not have been allowed to drag on so long.
Stevenson enjoyed a large majority in Worthington and Breedon, and while his successor as Tory candidate Raymond Morris might not serve for quite as long he shouldn't have much trouble holding the by-election. Things are rather different in Ibstock East ward on the same council. This has been a Labour-inclined marginal in recent years, with Labour increasing their majority over the Conservatives to 10 points in 2019; but the outgoing Labour councillor Daniel Tebbutt, who was elected to the council at the age of just 18, defected to the Conservatives after four months in office and then resigned. The resulting Ibstock East by-election looks set to be an interesting contest between Labour's Carissma Griffiths and the Tories' Jenny Simmons.
Another relatively young Leicestershire councillor to have resigned recently is Frankie McHugo, who was first elected to Harborough council in 2011 at the age of 21. A blog post on Conservative Home from the time (link) listed her among twelve Conservative councillors under the age of 23. At least three of the people in that list (Jack Brereton, Jonathan Gullis and Gary Sambrook) are now MPs, although the presence of Gary Sambrook there is an error: as long-term readers of Andrew's Previews will know, Sambrook wasn't first elected to Birmingham city council until he won a by-election in February 2014. Keep an eye on this column after 6th May, you might just be seeing the stars of the future (as I described Jonathan Gibson, the new Mastermind champion, back in September 2019: Andrew's Previews 2019, page 288).
Anyway, Frankie McHugo served until 2015 when she stood down from Harborough council, then returned in 2019 as one of the two councillors for Market Harborough – Little Bowden ward, which is the south-eastern of Market Harborough's four wards. Her resignation creates a by-election in a marginal ward, as the other councillor here is a Lib Dem. The defending Conservative candidate is Peter Critchley, while the Lib Dems' James Ward will look to gain.
Our final Leicestershire by-election takes place in the Stanton and Flamville ward, which covers five parishes between Hinckley and the Fosse Way but is administered as part of the Blaby local government district. This ward is sufficiently safe for the Conservatives that nobody bothered to oppose their slate here in 2019; the defending Conservative candidate Mike Shirley will, however, face a contest in this by-election.
The Leicestershire police area includes Rutland, where there are no council elections this year.
Warwickshire
Police and Crime Commissioner
Independent Warwickshire PCC Ron Ball retired at the 2016 election leaving the position open. On the first count the Conservatives led with 31%, Labour had 25%, UKIP 13% and independent candidate Dave Whitehouse 11%; the Tories and Labour went through to the runoff where the Conservatives won by 55-45.
Local elections
There are elections this year for the whole of Warwickshire county council, for one-half of Nuneaton and Bedworth council, and for one-third of Rugby council.
The main contest here will be in Nuneaton and Bedworth which is currently on a knife-edge. The ruling Labour group has 17 seats – half of the council – with the Conservatives on 14, the Greens on 1 and two independents (who were elected for the Conservatives). This is one of the handful of councils which renew half of their members at every election, so the last local elections here were in May 2018 – and a repeat of those results would see the Conservatives gain six seats and a comfortable majority to go with their lead in the Nuneaton and North Warwickshire parliamentary seats.
The good Conservative result in Nuneaton and Bedworth in May 2018 was also seen at the Warwickshire county elections in May 2017 and allowed the Tories to gain overall control of the county hall in Warwick. The 2017 elections in Warwickshire returned 36 Conservatives, 10 Labour, 7 Lib Dems, two Greens and two localist independents. Labour will need to do a lot better in Nuneaton and Bedworth to force a hung council here.
The North Warwickshire constituency includes Bedworth together with the whole of the North Warwickshire local government district, which is based on the towns of Atherstone and Polesworth. Both of those towns see by-elections to the district council with Labour defending. Polesworth East is a safe Labour ward which shouldn't give their defending candidate Emma Whapples too much trouble. Although Atherstone Central ward has had a full slate of Labour councillors since a 2009 by-election, it remains marginal in vote terms and promises to be a close contest between Sara Bishop (Labour, defending) and Mark Jordan (Conservative). Although their resigning councillor had previously left the party and gone independent, the Conservatives should be given very little trouble in Curdworth ward, covering a number of villages east of Sutton Coldfield and south of Tamworth together with the Belfry golf club; their defending candidate is Sandra Smith.
Rugby council has a small Conservative majority which looks safe enough. A repeat of the 2019 results would see just one seat change hands, the Conservatives picking up the rural Dunsmore ward from an independent councillor.
The only other poll to report on here is a by-election to Warwick council from Leamington Clarendon ward. This is the town centre ward for Leamington Spa, taking in all the glorious Georgian buildings on the Parade and a fair amount of deprivation and student lets in the terraces behind. Clarendon was close in 2019 between Labour and the Liberal Democrats, and it will be interesting to see whether the student vote appears here at all given that Warwick University is generally closed to in-person teaching. The defending Labour candidate is Colin Quinney, while Hugh Foden challenges for the Lib Dems.
West Midlands
Mayor of the West Midlands
Both of the West Midlands metropolitan area's major elected officials will be up for election this year. On paper the mayoralty is the more interesting position, as this was very close in 2017. The first count gave Conservative candidate Andy Street, a former head of the John Lewis Partnership, a 42-41 lead over Birmingham Labour MP Siôn Simon; Simon got slightly more transfers, but it wasn't enough to take the lead in the runoff which Street won by 50.4-49.6, a majority of 3,766 votes across the county.
This election is significant enough that two opinion polls have been commissioned for it. Over the Easter weekend a poll by Find Out New and Electoral Calculus for the Daily Telegraph gave Andy Street a 45-38 lead over the Labour candidate on first preferences, narrowing to 52-48 in the runoff. Redfield and Wilton were in the field from 18 to 21 April, giving Street a 46-37 lead on first preferences. These polls will be rather discouraging to the Labour candidate, who is another Birmingham Labour MP: Liam Byrne has represented the Hodge Hill constituency since winning a by-election in 2004, and is perhaps best known for the "I'm afraid there is no money" note which he left for his successor as a Treasury minister after the Labour government's defeat in 2010. Also standing this time are Jenny Wilkinson for the Lib Dems, Pete Durnell (who was the UKIP candidate four years ago) for the Reform Party, and Steve Caudwell for the Greens.
Police and Crime Commissioner
By contrast the West Midlands police and crime commissionership, despite covering the same area, has always been safe for Labour. This post has been held by Michael Jamieson since he won a by-election in 2014. At the 2016 election Jamieson was less than a thousand votes short of being re-elected in the first round, polling 50% against 26% for the Conservatives and 17% for UKIP; in the final reckoning he beat the Conservative candidate 63-37.
Jamieson is standing down, and Labour have selected Simon Foster, a solicitor. The Conservative candidate is Jay Singh Sohal, a former TV journalist who is now a communications director. Also standing are independent candidate Jools Hambleton, Mark Hoath for Reform UK, Jon Hunt for the Liberal Democrat and Desmond Jaddoo, leader of the newly-formed We Matter Party.
Local elections
As in 2019, Dudley council is the West Midlands borough to watch. This currently stands at 35 Labour councillors, 34 Conservatives, two independents and one vacancy; the Conservatives have a minority administration, and the casting vote of the mayor helps in that. This year the ward map is in the Tories' favour; the 2016 results here had Labour winning 14 wards, the Conservatives 9 and UKIP 1, while in 2019 the Conservatives won 13 wards to Labour's 11. That would suggest that the Conservatives should be favoured for an overall majority here.
The Tories already have a majority in Walsall, although only a thin one: 31 councillors against 26 Labour, two Lib Dems and an independent. Again, this year the ward map is in their favour: a repeat of the 2019 results would see the Conservatives gain 3 Labour wards and all 3 of the seats held by other parties.
A sterner test for the government party will be to see whether they can make any headway in Sandwell. This is the Black Country council which includes the two West Bromwich constituencies, both of which were Tory gains in December 2019; however, the last three Sandwell council elections have returned 72 Labour councillors out of a possible 72. Judging from the May 2019 results the Tories should have their eyes on gaining Blackheath ward (based on Rowley Regis), but anything else looks a very tall order.
On the far side of Birmingham, the Conservatives have suddenly found themselves in trouble in Solihull where their majority is down to 26 seats out of 51. The opposition here is an unlikely one: it's the Green Party, who have broken through in some of the bourgeois ex-Liberal parts of Solihull proper and the tower blocks of Chelmsley Wood and Castle Bromwich. A repeat of the 2019 results would see the Conservatives lose Castle Bromwich ward to the Greens; although they should pick up a safe ward from a defector who is not standing again, if the Tories lose anything else then their majority on the council would go.
There are no local elections this year to Birmingham city council apart from four by-elections. In the north of the city we have the 1930s and 1940s estates of Oscott ward; in the west former Labour council leader John Clancy has vacated Quinton ward, off the main road towards Hagley and Kidderminster; while in the south of the city there are by-elections in the neighbouring wards of Billesley and Hall Green North. All of these are Labour defences with only Hall Green North (defended for them by Saima Suleman) looking completely safe. At the last city council elections in 2018 Labour had a 2-point lead in Quinton, and leads of just over 10 points in Billesley and Oscott. Quinton will be defended for Labour by Elaine Kidney, with the Conservatives selecting Dominic Stanford; in Oscott the two major-party candidates are Uzma Ahmed for Labour and Darius Sandhu for the Tories. The Billesley by-election has attracted no fewer than nine candidates, with Katherine Carlisle as the defending Labour candidate and Clair Felton challenging for the Tories.
The Labour majorities in Coventry and Wolverhampton are impregnable.
Staffordshire
Police and Crime Commissioner
The Staffordshire PCC position has been held since 2012 by the Conservatives' Matthew Ellis. In 2016 Ellis led the first round rather narrowly with 36% against 31% for Labour and 16% for UKIP; he increased his lead in the final round, but only to 53-47.
This year Ellis is standing down. The Conservatives have selected Ben Adams, a long-serving Staffordshire county councillor who was their parliamentary candidate for Stoke-on-Trent North in 2015 and 2017. The Labour candidate is Tony Kearson, a Newcastle-under-Lyme councillor and criminologist. UKIP haven't returned, so completing the ballot paper are independent candidate Deneice Florence-Jukes, Michael Riley for Reform UK and Richard Whelan for the Lib Dems.
Local elections
There are elections this year for the whole of Staffordshire county council and for one-third of Cannock Chase and Tamworth councils.
Staffordshire county council has had a large Conservative majority since 2009, when the ruling Labour group crashed from 32 seats to just 3. The local Labour party has never really recovered from that experience, although they didn't do quite as badly in the 2017 election which returned 51 Conservatives, 10 Labour and an independent. Any Labour recovery would need to start in Cannock, Tamworth and Newcastle-under-Lyme, and pre-pandemic results from Newcastle do not give much indication of that happening. What about Cannock and Tamworth, though?
Well, Labour do retain Cannock Chase council, but only as a minority after losing overall control in 2019. Going into these elections there are 17 Labour councillors, 15 Conservative seats (one of which is vacant), 2 Lib Dems and 7 others, most of whom were originally elected for the Green Party which has suffered a split here. More than half of the Labour group is up for re-election this year, and a repeat of the 2019 results would see the Conservatives become the largest party on the council.
And there's not much sign of a Labour revival in Tamworth either. The Conservatives have had a large majority here for a long time now – currently 21 seats against 5 Labour, 2 UKIP and 2 independents. A repeat of the 2019 results would see the Conservatives gain one seat each from Labour and UKIP, who are still active in Tamworth and have nominated a full slate of candidates for the borough elections.
There are no local elections this year in Stoke-on-Trent apart from a by-election following the abrupt resignation in May 2020 of councillor Mohammed Pervez. He had been leader of the Labour group on the council since 2010, and until 2015 was leader of the council. Pervez had a strong majority in Moorcroft ward, which covers the southern end of Burslem, and new Labour councillor Javed Najmi will be hoping to defend that. Regrettably, the voters of Moorcroft will not have the chance to vote for the Official Monster Raving Loony Party's candidate Sir Honkey Tonk James, who had turned 18 by polling day but was underage on the day his nomination papers went in; the Returning Officer, on the time-honoured principle of "I'd love to help you son, but you're too young to vote", rejected James' nomination.
Outside the Potteries we have four by-elections for five seats. Two of these occur in the town of Cheadle, within the Staffordshire Moorlands district. Cheadle's three wards returned a full set of independent councillors in 2019 with large majorities, but both of these by-elections see multiple independent candidates who could split the vote. In North East ward those are Liz Whitehouse – niece of the late councillor Ian Whitehouse whose death caused the by-election – and Paulette Upton, while Cheadle South East ward is contested on the independent side by Jamie Evans, Colin Pearce and Alan Thomas.
East Staffordshire district has a double by-election for both seats in Eton Park ward. This is not as bucolic as it sounds. Eton Park ward is the northern end of Burton upon Trent, and the area is dominated by a large Pirelli tyre factory. The ward was safe Labour until 2019 when one of its two seats was taken by independent candidate Dale Spedding. Long-time readers of Andrew's Previews may recognise that name. Spedding won a by-election to the East Staffordshire council in the neighbouring Stretton ward in 2017, with the Conservative nomination (Andrew's Previews 2017, page 263), then resigned two months later over harassment he was getting from his constituents (Andrew's Previews 2018, page 50). He lasted a little longer on the council second time round, but still didn't make it into a second year before resigning: the double by-election to replace Spedding and the late Labour councillor Sonia Andjelkovic was originally scheduled for 26th March 2020 before the pandemic intervened. There is no independent candidate this time to replace Spedding so his seat is open, and it should revert back to Labour: the Labour slate here is Louise Walker (who was runner-up in the 2019 election) and Thomas Hadley.
Finally, we come to the Summerfield and All Saints ward of Lichfield district, which again is less scenic than the name might suggest: this is the central of the five wards covering the former mining town of Burntwood. Summerfield and All Saints elected a full slate of three Conservative councillors in 2015, but Labour gained two seats in 2019 and are defending this by-election. A closely-watched contest can be expected between defending Labour cndidate Michael Galvin and the Tories' Heather Tranter.
West Mercia
Police and Crime Commissioner
The West Mercia police area covers three counties in the Severn and Wye valleys in the west of England: Worcestershire, Shropshire and Herefordshire. The 2012 PCC election returned an independent candidate, Bill Longmore, who didn't seek re-election in 2016. Five years ago the Conservatives topped the poll here with 33% against 21% for Labour, 17% for UKIP and 14% for an independent candidate; the Conservatives' John-Paul Campion and Labour's Daniel Walton went through to the runoff, which Campion won 60-40.
Campion is seeking re-election for a second term. The Labour candidate this time is Telford and Wrekin councillor Kuldip Sahota. Peter Jewell, who was the UKIP candidate five years ago, now has the Reform UK nomination. Completing the ballot paper is Margaret Rowley of the Liberal Democrats.
Local elections
There are elections this year for the whole of Shropshire council and Worcestershire county council and for one-third of Redditch and Worcester councils.
To start in Redditch, which is a New Town with voting patterns to match. The Conservatives run Redditch council with an 18-11 lead over Labour, and no fewer than seven of the Labour councillors are up for re-election this year. A par score for the council is difficult to assess, because of the way Redditch's wards come up for election, but would involve significant Conservative gains.
Worcester city council is currently hung: the Conservatives have 16 seats, Labour 15, the Greens 3 and the Lib Dems 1. An all-party administration is in place. The Conservatives will have their eye on gaining the city-centre Cathedral ward which they won two years ago, but the second gain they require for an overall majority may prove elusive.
Worcestershire county council has a big Conservative majority and that looks unlikely to change. The 2017 election here returned 40 Conservative councillors, 10 Labour, 3 Lib Dems, 2 Greens, 1 Kidderminster Health Concern and an independent.
The only local by-election within Worcestershire has fallen in the by-election-prone ward of Elmley Castle and Somerville, covering seven parishes in the Vale of Evesham to the north and east of Bredon Hill. This is a safely Conservative ward of Wychavon council which has generated a number of casual vacancies in the last decade. Elmley Castle and Somerville was represented by Anna Mackison until she died shortly before the 2011 election; it appears that nobody was planning to oppose her that year as no candidates were nominated for the ward, so a by-election had to be held in June 2011 which was won by the Tories' Roma Kirke. Kirke resigned shortly before the 2015 election, which was held for the Conservatives by Anna's widower George Mackison. George has now resigned in his turn, and Emma Kearsey will look to defend the ward for the Tories in a straight fight with the Green Party.
The ruling Conservative group on Shropshire council attracted rather a lot of bad publicity over the last decade, although the last term does seem to have been significantly quieter on that front suggesting things may have calmed down somewhat. The Tories are defending a large majority from the 2017 election which returned 49 Conservatives, 12 Lib Dems, 8 Labour (all from Shrewsbury and its satellite village of Bayston Hill), three independents, a Green councillor and a representative of Kidderminster Health Concern (in Cleobury Mortimer, for which Kidderminster is the main service centre). The Conservative defence will be helped by the fact that they have held Albrighton division unopposed – that's the only uncontested seat on the British mainland in this year's local elections.
There are no local elections this year in Herefordshire or Telford and Wrekin apart from three by-elections. In Herefordshire we pay a visit to Newton Farm ward on the south-western edge of Hereford, which elected independent candidates in the 2015 and 2019 elections; two new independents have come forward here in the shape of Alan Jones and Glenda Powell. Jones appears to be fighting his first election campaign; Powell was the runner-up here in 2015 as an independent, and finished fourth in 2019 with the Democrats and Veterans Party nomination. Second in this ward last time were the Lib Dems, whose candidate Jacqui Carwardine is standing again. The Labour candidate Steve Horsfield also deserves a mention thanks to his TikTok campaign video, which has become an unlikely viral hit.
Finally in this section, Labour have two by-elections to defend in Telford and Wrekin. Dawley and Aqueduct ward is in the south of the New Town (which was originally going to be called Dawley), while Donnington ward is in the north-east corner of Telford on the way to Newport. Both of these wards were safe Labour in 2019, and the defending candidates are Ian Preece and Sophie Thompson respectively.
Coming soon: Part III of Andrew's Previews for 6th May 2021, covering the South of England.
Andrew Teale
Andrew Teale is the Britain Elects previewer. He edits the Local Elections Archive Project, sometimes tweets at @andrewteale and plays quiz a bit. Read his meticulously-researched previews for the full lowdown on each local by-election, what you need to know and why you might (or might not) want to visit.