Six by-elections on 19th September 2019:
---
Vivary
Somerset West and Taunton council; caused by the resignation of Conservative councillor Catherine Herbert.
This week's six by-elections are split evenly between three Conservative and three Labour defences, and not all of them are safe seats, not by any means. I'll start with the Tory wards, two of which are in the West Country – a region where the party did very poorly in May's local elections.
One feature of May's local elections was a reorganisation which saw six non-metropolitan districts, four in Suffolk and two in Somerset, paired off into three new ones. These are the first completely new non-metropolitan districts created since the big bang of the 1970s, as the trend for tinkering with local government is to create unitary councils outside the two-tier structure. So our first preview this week is a bit of a novelty, as we have our first by-election in one of these completely new district councils.
This council, with a name that manages to be both ugly and unimaginative – "Somerset West and Taunton" – was created in April out of a merger of the former West Somerset and Taunton Deane districts. You can see why this was done. West Somerset was England's smallest non-metropolitan district in population terms, with a headcount of around 35,000 and a hard economic dependence on tourism and the business rates generated by the Hinkley Point nuclear power stations. Those 35,000 people had a median age of 52, from which it can be inferred that there are a lot of pensioners here. Not the sort of demographic that gives you a high council tax return, and the Age of Austerity led to some financial difficulties for West Somerset council.
So, it was merger time. As stated, in April West Somerset council disappeared along with Taunton Deane, a rather more viable district based on Somerset's county town of Taunton. Unlike West Somerset, which in pre-Coalition days tended to have a large number of independent councillors, Taunton Deane has been closely fought for many years between the Conservatives and Liberal Democrats at both parliamentary and local level. Despite this, a lot of observers – including this column – had expected the Conservatives to win the first Somerset West and Taunton election in May 2019. It didn't happen like that. The Tories did very badly in the district, coming out with just 10 seats; 14 seats went to independents, but the Liberal Democrats were the winners taking 30 seats out of a possible 59 and a majority of one.
The only Conservative councillor to hold her seat in Taunton town was Catherine Herbert, who had been the last mayor of Taunton Deane council and since 2007 had represented the Taunton Killams and Mountfield ward. This was in the south of Taunton, along the road towards the racecourse, and is one of the more middle-class parts of the town. Killams and Mountfield had voting patterns to match: in the 2015 election the Conservative slate had 47% to 27% for the Liberal Democrats, and the Tories won both seats very easily.
Some quick footwork by the Local Government Boundary Commission produced a brand new ward map for the brand new council, which expanded Killams and Mountfield slightly towards the town centre and added Vivary Park to it, resulting in a name change to Vivary ward. It must have been a surprise to everyone involved when the inaugural Vivary result came through. The Liberal Democrats topped the poll with 34% of the vote, but had only nominated one candidate for the two available seats. That enabled Herbert, as top of the Tory slate, to hold her seat with 28% of the vote, ahead of independent candidate Nick Messarra who was runner-up with 25%. True, this ward is mostly part of the Taunton South division of Somerset county council, which is Lib Dem-held, but Taunton South also includes Blackbrook and Holway ward which is longstanding Liberal Democrat territory.
Starting from second place, the Conservatives have an uphill struggle to hold this by-election. Their defending candidate is Sharon Fussell, who is a team leader at a local supermarket. The Lib Dem candidate is Derek Perry, a barrister specialising in criminal, regulatory and personal injury law. Standing as an independent is Neil Rudram, who appears to be a veterinary surgeon. Completing the ballot paper are Robert Noakes for Labour and Marguerite Paffard for the Green Party.
Parliamentary constituency: Taunton Deane
Somerset county council divisions: Taunton South (most), Bishop's Hull and Taunton West (northern end), Comeytrowe nad Trull (Vivary Park)
ONS Travel to Work Area: Taunton
Postcode district: TA1
Sharon Fussell (C)
Robert Noakes (Lab)
Marguerite Paffard (Grn)
Derek Perry (LD)
Neil Rudram (Ind)
May 2019 result LD 709 C 581/413 Ind 514 Lab 261
---
Ethandune
Wiltshire council; caused by the death of Conservative councillor Jerry Wickham, who had served since winning a by-election in March 2014.
For some reason Wiltshire seems to be generating a lot of by-elections at the moment: there have already been two polls to Wiltshire council this year and a fourth is in the pipeline. The most recent of those was in Westbury North, which the Lib Dems held in July; we now move to the neighbouring division of Ethandune, which surrounds Westbury on three sides. Here can be found the villages of Dilton Marsh (home to the ward's railway station on the Westbury-Salisbury line) to the west of Westbury, Heywood and Hawkeridge to the north, and Bratton, Edington and Coulston to the east.
The name Ethandune reflects one of the decisive moments in the history of these islands – I would say English history but this was a time before England was thought of. The year was AD 878, the time was May. The 870s had been a good decade for the Vikings who had overrun most of what would become England, but the Kingdom of Wessex under Alfred was proving a tougher nut to crack. The Danish commander Guthrum had been harassing Wessex since 875, and nearly captured Alfred in a night attack on his court at Chippenham on Twelfth Night 878. Alfred fled into the Somerset Levels, reputedly burned some cakes and got some guerilla warfare going. In early May 878 he called his loyal men to Egbert's Stone, from where they travelled a few days later to meet the Danes in battle at Ethandune – now generally identified as Edington in Wiltshire.
The resulting Battle of Edington was a decisive victory for the West Saxons, and led to a peace settlement under which Guthrum was baptised as a Christian and the Vikings kept out of Wessex. The so-called "Peace of Wedmore" lasted, with Guthrum subsequently becoming King of East Anglia and reigning there for eleven years, while Alfred continued to rule Wessex to such effect that he is one of only two English kings known as "the Great". Thirty-six generations down the line, his descendant Elizabeth still rules over the area today.
The military have never really left Edington, which lies in the shadow of Salisbury Plain; part of this Army training area is within the boundary of Ethandune division. This is normally a safely Conservative area, although the Tories were given a scare at the March 2014 by-election when Jerry Wickham was first elected: in that poll he had 36%, to 28% for the Lib Dems, 17% for UKIP and 14% for independent candidate Francis Morland. Morland and the Lib Dem candidate Carole King turned up again in this column two months ago in the Westbury North by-election, which King won. Wickham was easily re-elected for a second term at the most recent Wiltshire elections in 2017, defeating the Lib Dems 72-28 in a straight fight.
Today's Battle of Edington will be another straight fight. Defending from the blue corner is Suzanne Wickham, Jerry's widow. Challenging from the yellow corner is Alan Rankin, a counsellor, former Coldstream Guards bandsman and interim chair of the party's Devizes branch.
Parliamentary constituency: South West Wiltshire
ONS Travel to Work Area: Trowbridge
Postcode districts: BA11, BA13, BA14
Alan Rankin (LD)
Suzanne Wickham (C)
May 2017 result C 1059 LD 416
March 2014 by-election C 480 LD 372 UKIP 236 Ind 192 Lab 69
May 2013 result C 748 LD 303 Lab 182
June 2009 result C 1004 LD 467 Lab 157
---
Chestfield
Canterbury council, Kent; caused by the death of Conservative councillor Jenny Samper. Twice Lord Mayor of Canterbury, Samper was a veteran of local government who had sat on Canterbury council since 1976, with a break in service from 1991 to 1995.
For our final Conservative defence of the week we travel east to Kent. Chestfield is a village near the north coast of Kent just outside Whitstable, on the northern slopes of the Blean Forest. Those slopes are broken within this ward by the A299 dual carriageway, which bypasses Whitstable on its way to the Isle of Thanet; however, the A299 was built with a tunnel to avoid disturbing Chestfield's golf course. The ward includes south-eastern fringes of Whitstable, and Chestfield and Swalecliffe railway station (on the Faversham-Ramsgate line) lies on its northern boundary.
This is a safely Conservative ward. In May this year the Tory slate polled 53% against very evenly-split opposition: 17% for the Lib Dems, 16% for Labour, 15% for the Green Party candidate. However, the result here will still be worth watching as the ward is part of the Canterbury parliamentary seat, which was such an unexpected Labour gain in the 2017 general election and will no doubt be very near the top of the Tory target list when the next general election comes around. Chestfield ward is part of the Canterbury North division of Kent county council, which was safely Conservative in the May 2017 county elections and at a by-election in November last year.
Defending for the Conservatives is Ben Fitter-Harding, whom readers with long memories may note has appeared in this column before: he won a by-election to Canterbury council in 2012 from the neighbouring ward of Blean Forest (which covers the University of Kent campus), but lost his seat there in 2019. The Lib Dems have selected Peter Old, a local resident. The Labour candidate is Morag Warren who fought the neighbouring Swalecliffe ward in May. Completing the ballot paper are Nicole David for the Green Party and independent candidate Joe Egerton.
Parliamentary constituency: Canterbury
Kent county council division: Canterbury North
ONS Travel to Work Area: Canterbury
Postcode districts: CT5, CT6
Nicole David (Grn)
Joe Egerton (Ind)
Ben Fitter-Harding (C)
Peter Old (LD)
Morag Warren (Lab)
May 2019 result C 1084/1071 LD 342/340 Lab 324/257 Grn 314
May 2015 result C 2342/2049 UKIP 925 Lab 648/584 LD 395/289 Grn 391
---
Fulham Broadway
Hammersmith and Fulham council, North London; caused by the resignation of Labour councillor Alan de'Ath who had served since 2014. De'Ath has taken up a new job which is politically restricted.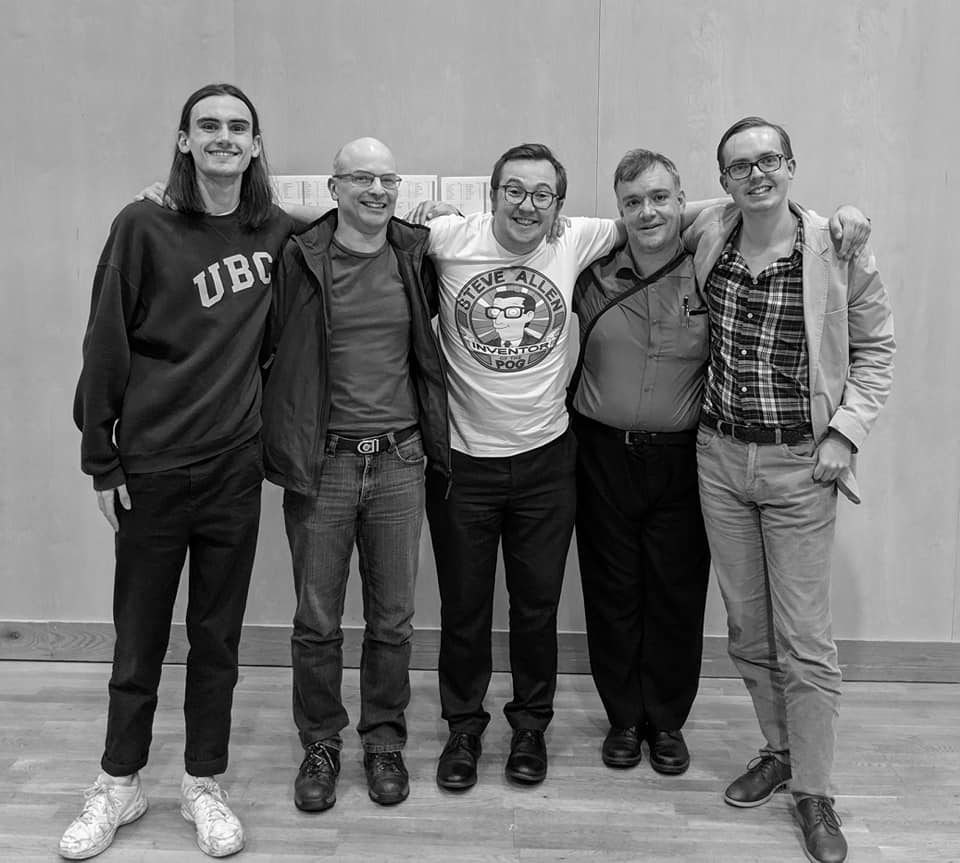 Having covered the three Tory defences this week we now turn to the Labour side, starting in London. Your columnist was in London over the weekend playing in the Quiz League of London's annual quizbowl tournament, as part of the "Bloc Trebekois" team pictured above: from left Ben, Rob, Paddy, some random hanger-on and Jonathan. We only went and won a title, the Plate competition! Thanks everyone. Because of that and other quiz commitments there has been very little time to research this week's Previews, so I am grateful to Hammersmith and Fulham Labour Party for making my job easier by sending me an informative copy of their submission to the Local Government Boundary Commission, which has started work on a new ward map for the 2022 Hammersmith and Fulham election.
Games of a rather different kind to quiz regularly affect the Fulham Broadway ward, as Chelsea FC's Stamford Bridge stadium is just outside the boundary. Until 2022 at least Fulham Broadway ward is rather misnamed, as it covers only a small part of the road of that name. Instead we run north from the Broadway along North End Road as far as Lillie Road, which is the ward's northern boundary; to the east lies the West London Overground line, while to the west are the tower blocks of the Clement Attlee council estate. In the south-east corner is the London Oratory School, where a number of prominent recent politicians including the man Labour love to hate, Tony Blair, had their children educated. West Brompton railway and Underground station lies at the ward's north-east corner, and Fulham Broadway Underground station is on the southern boundary.
Outside the Attlee estate, the census return makes it pretty clear that this is the sort of area where London's professional classes like to live. In 2011 Fulham Broadway was in the top 40 wards in England and Wales for those born in the new EU states (10.1%), in the top 70 for the White Other ethnic group (24.6%) and in the top 80 for those born in the Republic of Ireland (2.6%).
Despite or perhaps because of that demographic, Hammersmith and Fulham council has been run by Labour for most of the period since it was established in 1965, although there was a recent interlude of Tory control from 2006 to 2014. Top of the poll in Fulham Broadway in the 2006 election was Aidan Burley, who went on to serve as a controversial Tory MP for the Staffordshire constituency of Cannock Chase during the Coalition years. Fulham Broadway ward was part of that Conservative majority, but Labour regained the ward in 2014 and increased their majority to 56-36 in the 2018 borough elections. However, Fulham Broadway was carried by the Tories at the 2016 GLA elections: Zac Goldsmith beat Sadiq Khan here 44-37, and the Conservative lead over Labour in the London Members ballot was 38-33. The ward is also in the safe Conservative parliamentary seat of Chelsea and Fulham.
So this may be more marginal than the 2018 result would indicate. Defending for Labour is Helen Rowbottom who works in the healthcare sector. The Tories have reselected Aliya Afzal Khan who was on their slate here in 2018; she is a former local TV presenter and director of the Conservative Friends of Pakistan. Completing the ballot paper is Jessie Venegas of the Liberal Democrats.
Parliamentary constituency: Chelsea and Fulham
ONS Travel to Work Area: London
Postcode district: SW6
Aliya Afzal Khan (C)
Helen Rowbottom (Lab)
Jessie Venegas (LD)
May 2018 result Lab 1720/1611/1590 C 1094/1045/1028 LD 267/260/258
May 2014 result Lab 1571/1540/1524 C 1242/1232/1211 LD 218/217/188
May 2010 result C 2178/2131/2007 Lab 1369/1311/1138 LD 876/873/814
May 2006 result C 1682/1644/1610 Lab 1191/1146/1111 LD 305/235/210 BNP 236
May 2002 result Lab 1276/1253/1217 C 1183/1169/1166 LD 233/188/165
May 2016 GLA results (excludes postal voters)
Mayor: C 1068 Lab 891 Grn 118 LD 74 UKIP 74 Women's Equality 69 Britain First 30 Respect 29 Cannabis is Safer than Alcohol 28 BNP 16 Zylinski 12 One Love 4
London Members: C 934 Lab 796 Grn 191 UKIP 147 Women's Equality 124 LD 91 Animal Welfare 36 Britain First 36 Respect 31 BNP 19 CPA 18 House Party 15
---
Old Swan
Liverpool council, Merseyside; caused by the resignation of the Lord Mayor of Liverpool, Labour councillor Peter Brennan, who had served since 2011. Brennan resigned after it emerged that he had shared a racist video on WhatsApp.
For our other big city by-election we travel north-west to Liverpool. If you're arriving into Liverpool from the east Old Swan ward is probably the first part of the city you'll see: the south-eastern corner of the ward is the Rocket junction where the M62 motorway comes to a juddering halt at a set of traffic lights. Edge Lane continues into the city from here, as does the older Prescot Road. The world's first intercity railway, the Liverpool and Manchester railway line, forms Old Swan ward's southern boundary, but you won't see much from it: this is the western end of the Olive Mount cutting, an 80-foot-deep vertical gash in the Liverpool sandstone. At the western end of the cutting is the oldest intercity railway's newest station, Wavertree Technology Park, which opened in 2000.
The curious name of this ward comes from the eighteenth century, when there was a pub called the Three Swans at the junction of Prescot Road and Broadgreen Road. There is now an Old Swan pub on the junction (and there used to be a Cygnet as well), but the site of the original Three Swans is now occupied by a well-known national chain of coffee shops. Such is progress.
Old Swan ward is in many ways a stereotype of Liverpool as outsiders see it: high deprivation levels, high unemployment and all the rest. It is a place whether the Labour vote is weighed rather than counted; on general election day in 2015 Peter Brennan polled over 5,000 votes here, and in May he was re-elected for Labour with 72% of the vote against five other candidates. So it's a surprise to learn that in those pre-Coalition days, when the Liberal Democrats were running Liverpool, Old Swan was a strong ward for them; in 2007 the Lib Dems beat Labour here 65-23. Seven years later the Lib Dems polled 3% and finished seventh in Old Swan – quite the turnaround. Since Peter Brennan's resignation, Old Swan has also gained a Liberal Democrat MP thanks to the defection of Luciana Berger, in whose Wavertree constituency the ward is.
Will that have an effect on this by-election? We shall see. Defending for Labour is William Shortall, a member of the Merseyside Pensioners Association and former Green Party figure who has called for Berger to seek re-election in a by-election of her own. Shortall is opposed on an all-male ballot paper by George Maxwell for the Greens, Mick Coyne for the continuing Liberal Party (which in Liverpool is the personality cult of veteran city councillor Steve Radford), Chris Lea for the Lib Dems, Peter Andrew for the Conservatives and Martin Ralph, who regularly stands here for his own anti-austerity party Old Swan Against the Cuts.
Parliamentary constituency: Liverpool Wavertree
ONS Travel to Work Area: London
Postcode districts: L7, L13
Peter Andrew (C)
Mick Coyne (Lib)
Chris Lea (LD)
George Maxwell (Grn)
Martin Ralph (Old Swan Against the Cuts)
William Shortall (Lab)
May 2019 result Lab 2021 Grn 218 Lib 215 LD 166 C 89 Old Swan Against the Cuts 84
May 2018 result Lab 2174 LD 162 Old Swan Against the Cuts 157 C 144 Grn 136 Lib 126
May 2016 result Lab 2260 Old Swan Against the Cuts 395 LD 278 Grn 161 C 109 Lib 86
May 2015 result Lab 5244 UKIP 628 Old Swan Against the Cuts 437 Grn 282 C 263 LD 210 Lib 186
May 2014 result Lab 2135 UKIP 549 Old Swan Against the Cuts 296 Grn 150 Lib 139 C 107 LD 104 EDP 21
May 2012 result Lab 2577 Lib 267 LD 221 Grn 185 TUSC 123 EDP 111 C 98
May 2011 result Lab 2689 LD 751 UKIP 202 C 118 Lib 116 Grn 97 TUSC 74 EDP 58
May 2010 result Lab 3557 LD 2341 BNP 242 C 231 Grn 194 Lib 100
May 2008 result LD 1372 Lab 824 Lib 321 BNP 300 Grn 130 C 127
May 2007 result LD 2248 Lab 814 Lib 161 Grn 132 C 127
May 2006 result LD 1436 Lab 859 Lib 172 UKIP 150 C 148 Grn 134 United Socialist 68
June 2004 result LD 2290/2286/2239 Lab 1096/807/786 Lib 206/176 Socialist Alliance 171/169/112
---
Thorniewood
North Lanarkshire council, Scotland; caused by the resignation of Labour councillor Hugh Gaffney, who was elected in June 2017 as the Labour MP for Coatbridge, Chryston and Bellshill.
We finish for the week in Scotland, that place where politics is in flux at the moment. Thorniewood ward lies just outside the eastern edge of Glasgow, and is an area where the population boomed after the Second World War. This was due to new industry coming in, such as a coalmine and a large Caterpillar factory, and to house the people needed to run these industries the town of Viewpark was born.
Viewpark combines with the neighbouring areas of Tannochside and Birkenshaw to form the Thorniewood ward. In case you have never heard of these places and are wondering why this is, none of these areas are recognised as towns by the Royal Mail, which classifies almost every address within the ward as "Uddingston, Glasgow" – but Uddingston proper is over the district boundary in South Lanarkshire. The ward name "Thorniewood" is shared by Thorniewood United, a local junior football team. This column has been confused by this concept before, so let me explain: in Scottish football "junior" refers not to the age of the players but to the level of football, roughly equivalent to non-league in the English system.
This ward in the heart of the Central Belt was created in 2007 when Scottish local elections moved to using proportional representation. Until the Indyref this was one of the strongest Labour wards in Scotland, with the party polling over 68% of the first preferences and winning two out of three seats in the 2007 and 2012 elections. The remaining seat was held by the SNP, who successfully defended it in a by-election in 2015 at the height of the party's powers: that by-election saw the Nationalists lead Labour 47-43 in the first round and win by 52-48 after transfers.
The losing Labour candidate on that occasion was Hugh Gaffney, who did get elected to North Lanarkshire council two years later. On revised boundaries in May 2017 Labour polled 50% in Thorniewood ward and the SNP 39%, the seat count remaining at 2-1 to Labour. A month later Gaffney was elected to the Westminster Parliament, defeating single-term SNP MP Phil Boswell by 1,586 votes on a swing of over 13% in the local seat of Coatbridge, Chryston and Bellshill. The SNP hold the local Scottish Parliament constituency of Uddingston and Bellshill, having gained it from Labour in 2016.
With a general election possibly around the corner, this by-election should be watched to see how Labour are doing in the Central Belt which is an area full of SNP versus Labour marginal seats. If Corbyn or Sturgeon can get their message right for this area, the payoff could be substantial. An SNP gain could have implications for North Lanarkshire council, where Labour hold 32 seats plus this vacancy and the SNP have 31; the balance of power is held by eight Conservatives and five independents, and Labour run the the council as a minority.
Defending this by-election for Labour is Norah Mooney, an NHS practice manager. The SNP have gone for youth in selecting Eve Cunnington, whose first vote was in the independence referendum five years ago yesterday. It's been a long five years, hasn't it? Also standing are Lorraine Nolan for the Conservatives, Rosemary McGowan for the Greens and Colin Robb for the Lib Dems.
Parliamentary constituency: Coatbridge, Chryston and Bellshill
Scottish Parliament constituency: Uddingston and Bellshill
ONS Travel to Work Area: Motherwell and Airdrie
Postcode districts: G69, G71
Eve Cunnington (SNP)
Rosemary McGowan (Grn)
Norah Mooney (Lab)
Lorraine Nolan (C)
Colin Robb (LD)
May 2017 first preferences Lab 2354 SNP 1811 C 519
Andrew Teale
Andrew Teale is the Britain Elects previewer. He edits the Local Elections Archive Project, sometimes tweets at @andrewteale and plays quiz a bit. Read his meticulously-researched previews for the full lowdown on each local by-election, what you need to know and why you might (or might not) want to visit.